The following photos and memories are owned by & copyright of Viera Rudkins who has kindly allowed them to appear on this website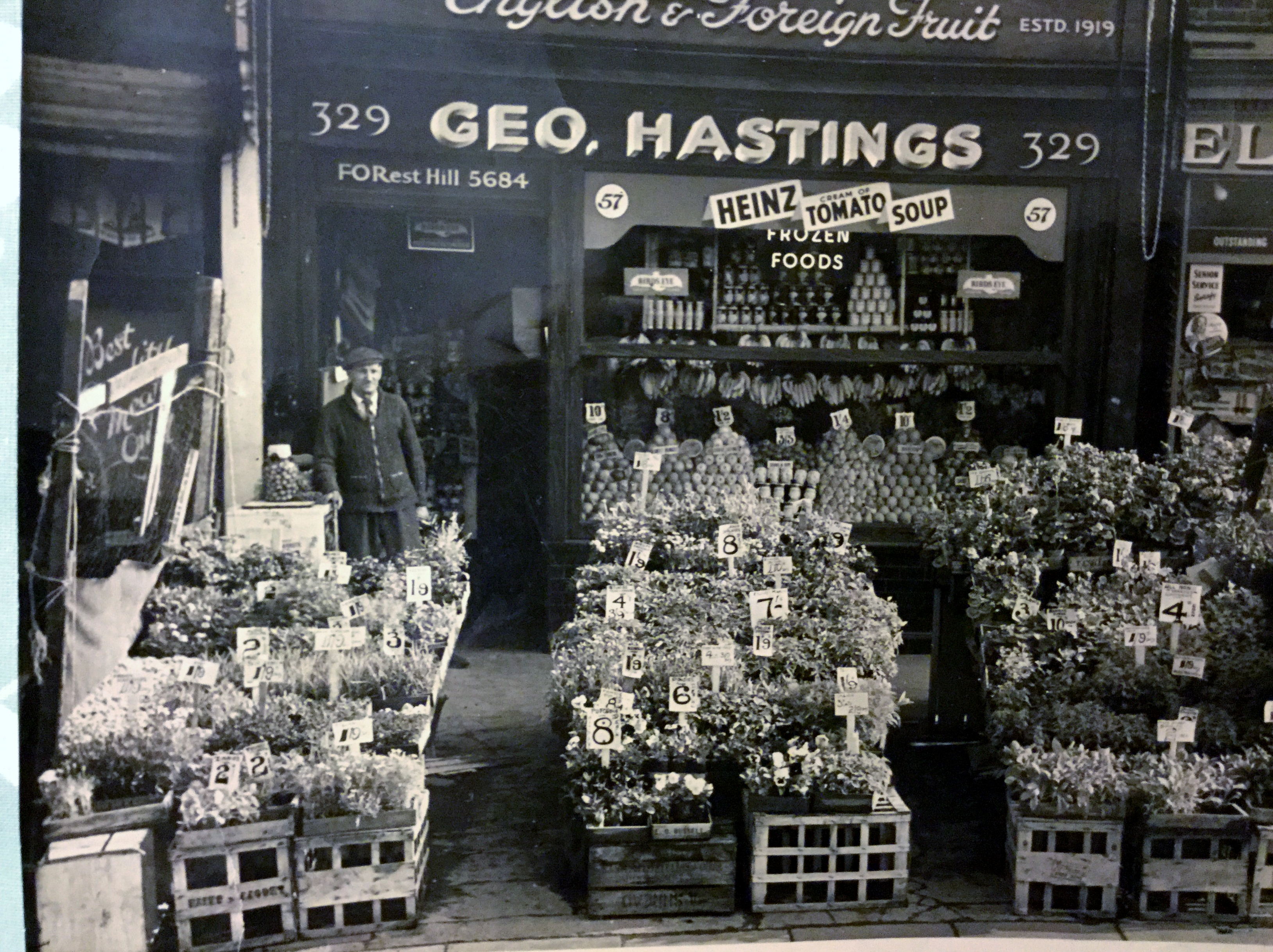 (above) Harry Hastings the Greengrocer at 329 Underhill Road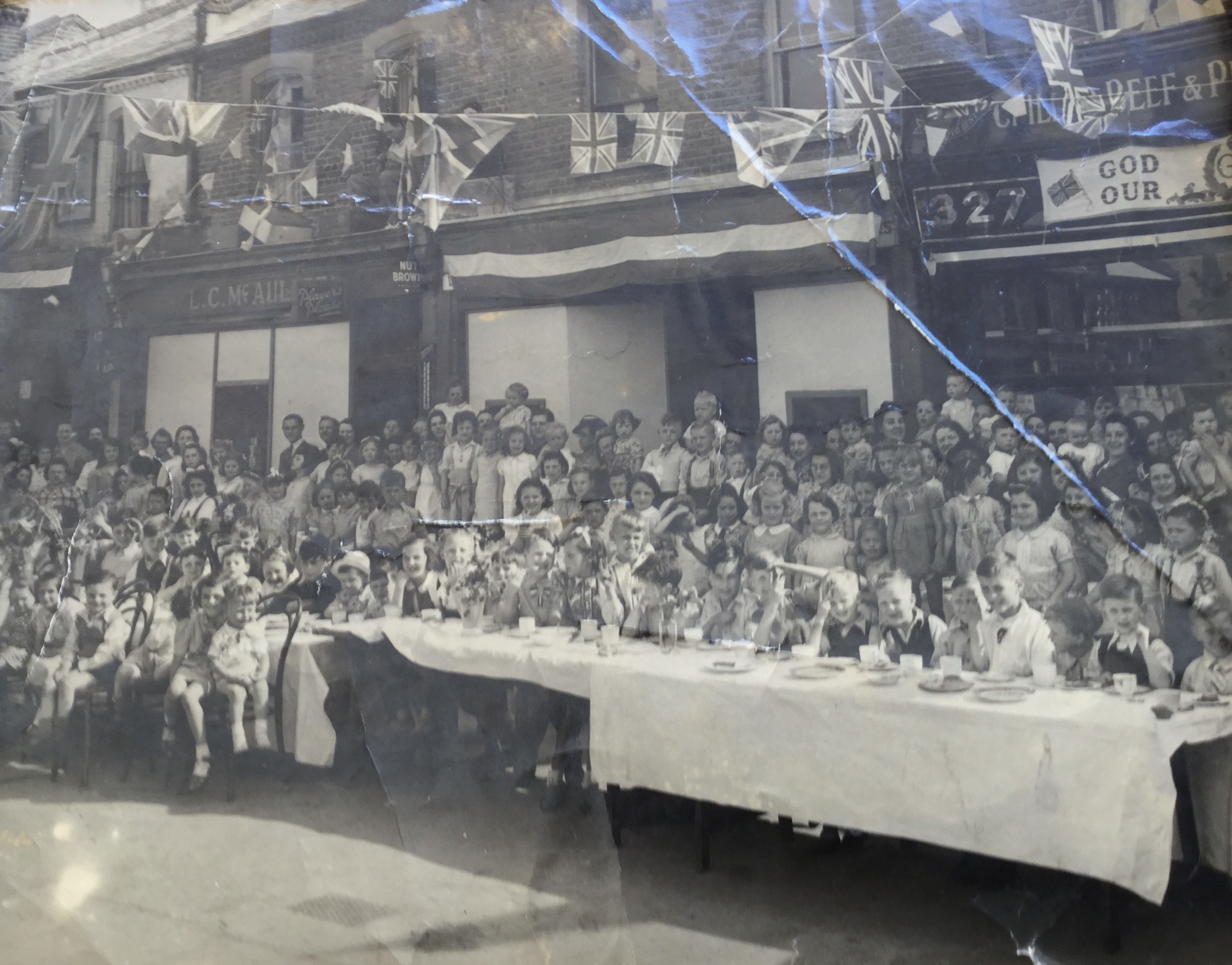 (above) The Victory Street Party in Underhill Road 1945
Viera says "I was 11 years old, at that party.
I Went to Friern Road School, opposite Peckham Rye Park.
When I was 13 years old, I went to the Camberwell School of Arts & Crafts"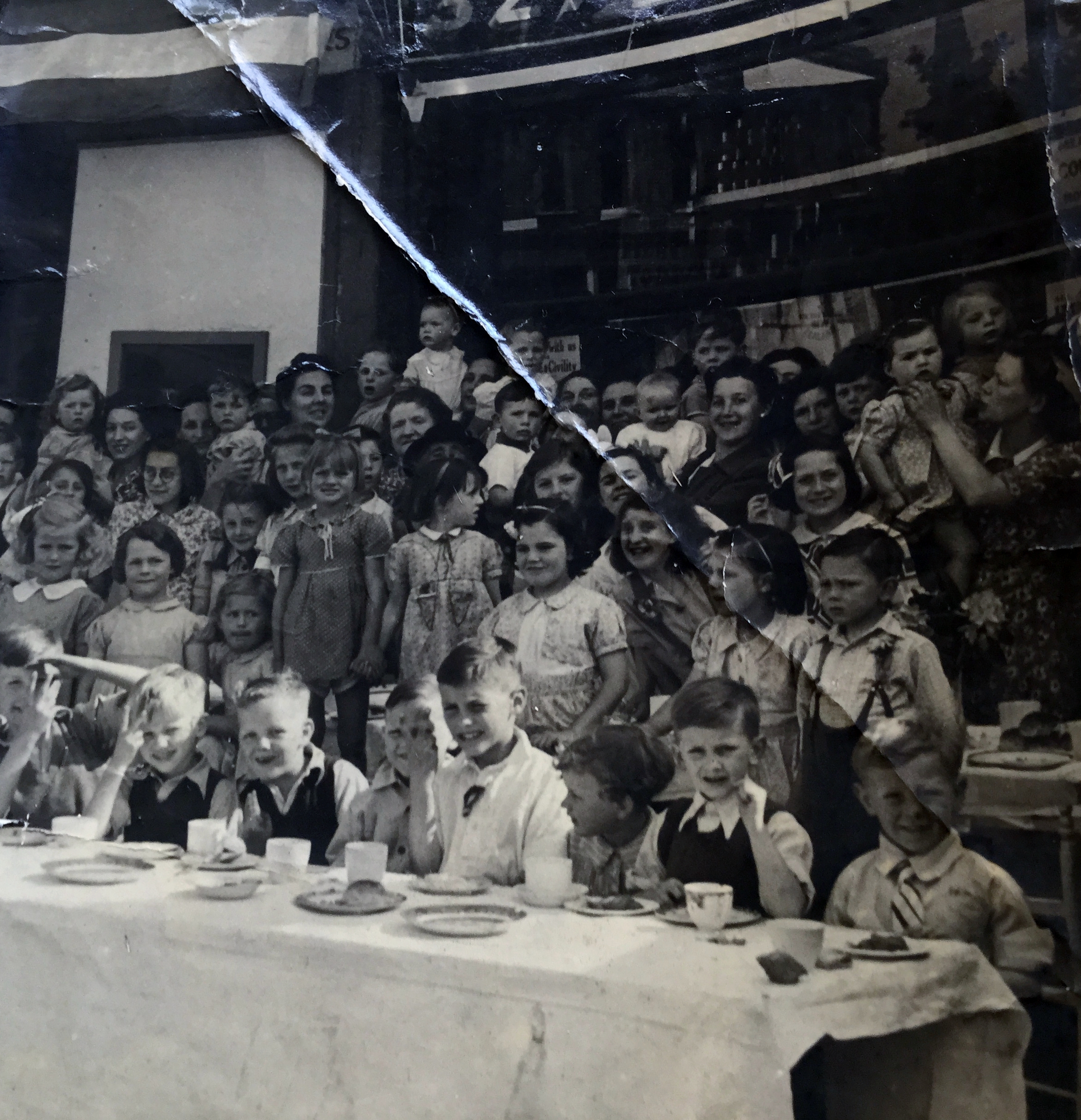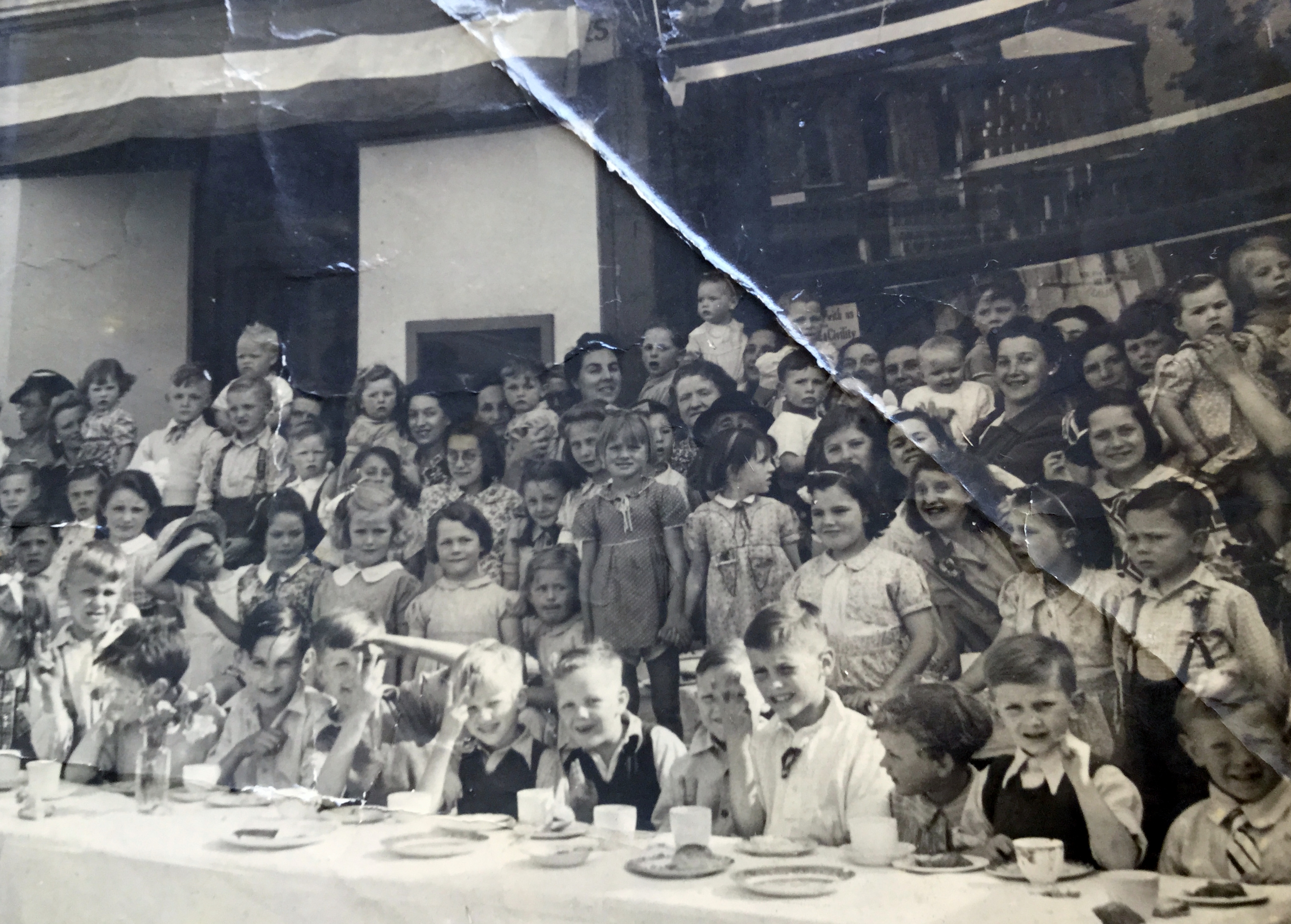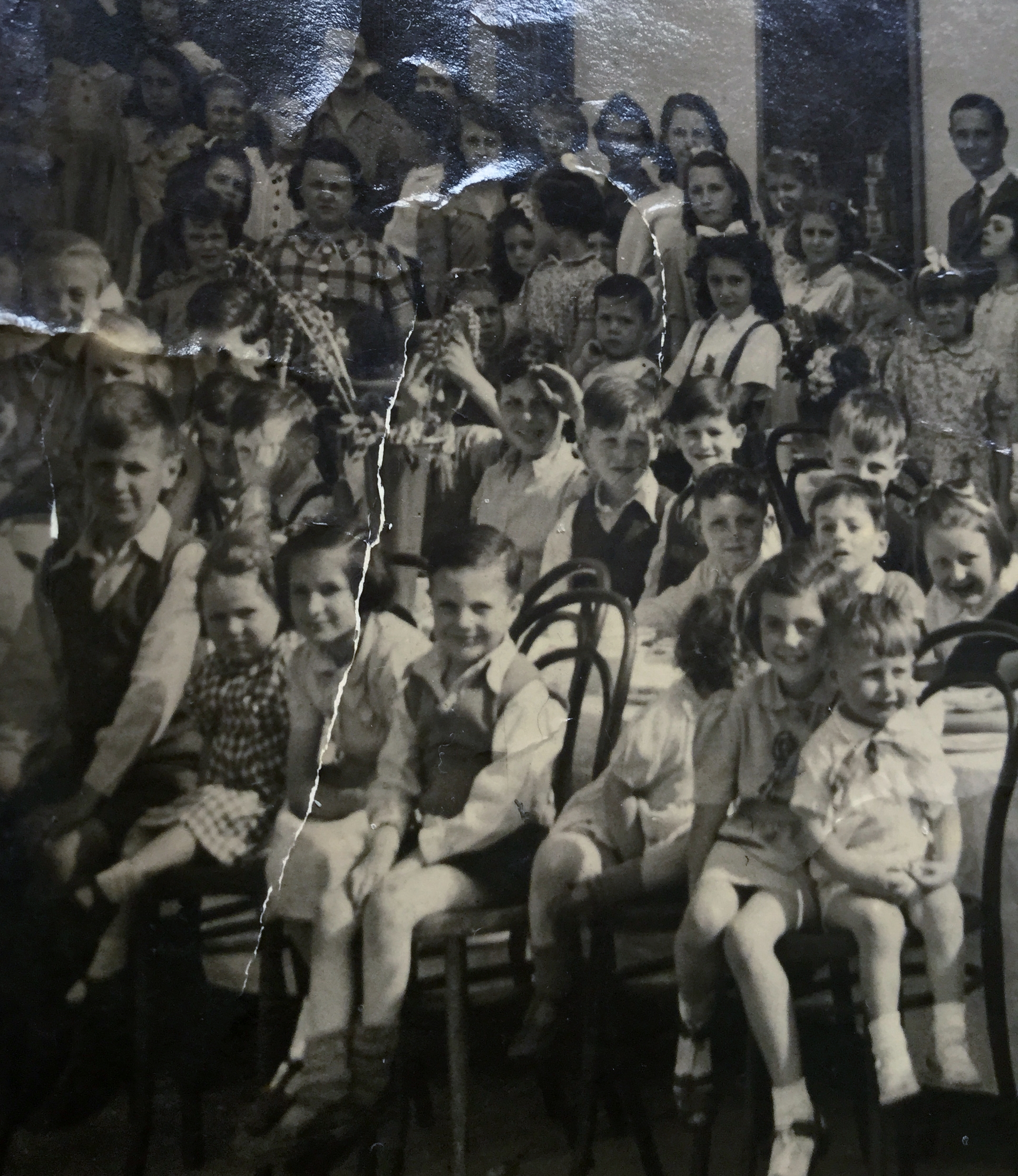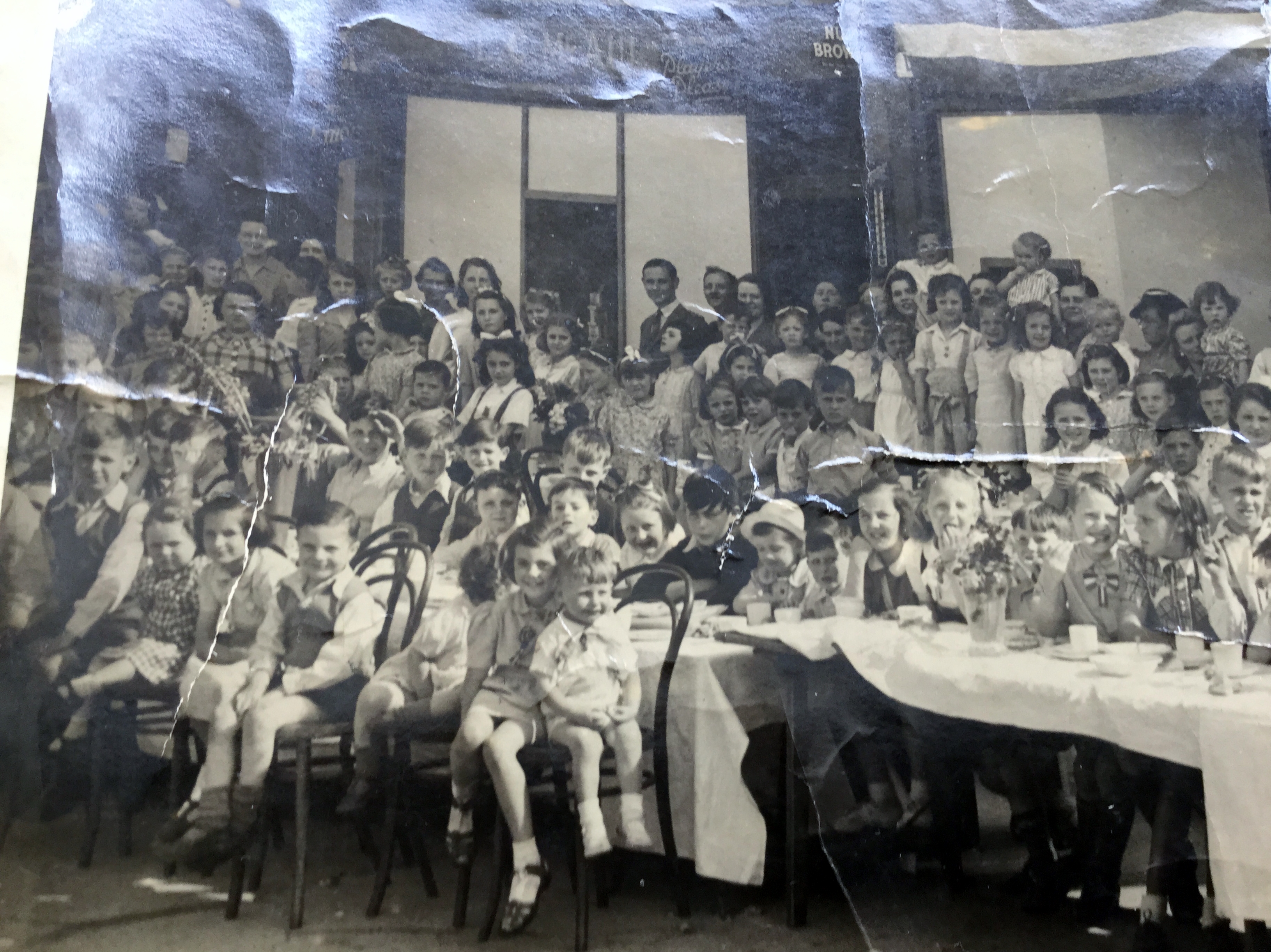 A few close ups of The Victory Party in Underhill Road 1945 – Do you recognize yourself ?
Memories of my childhood in East Dulwich by Viera Rudkins
I attended Friern Road School when I was 4 years old. I remember having to go to sleep for an hour on a camp bed with my blanket, half way through my day at school.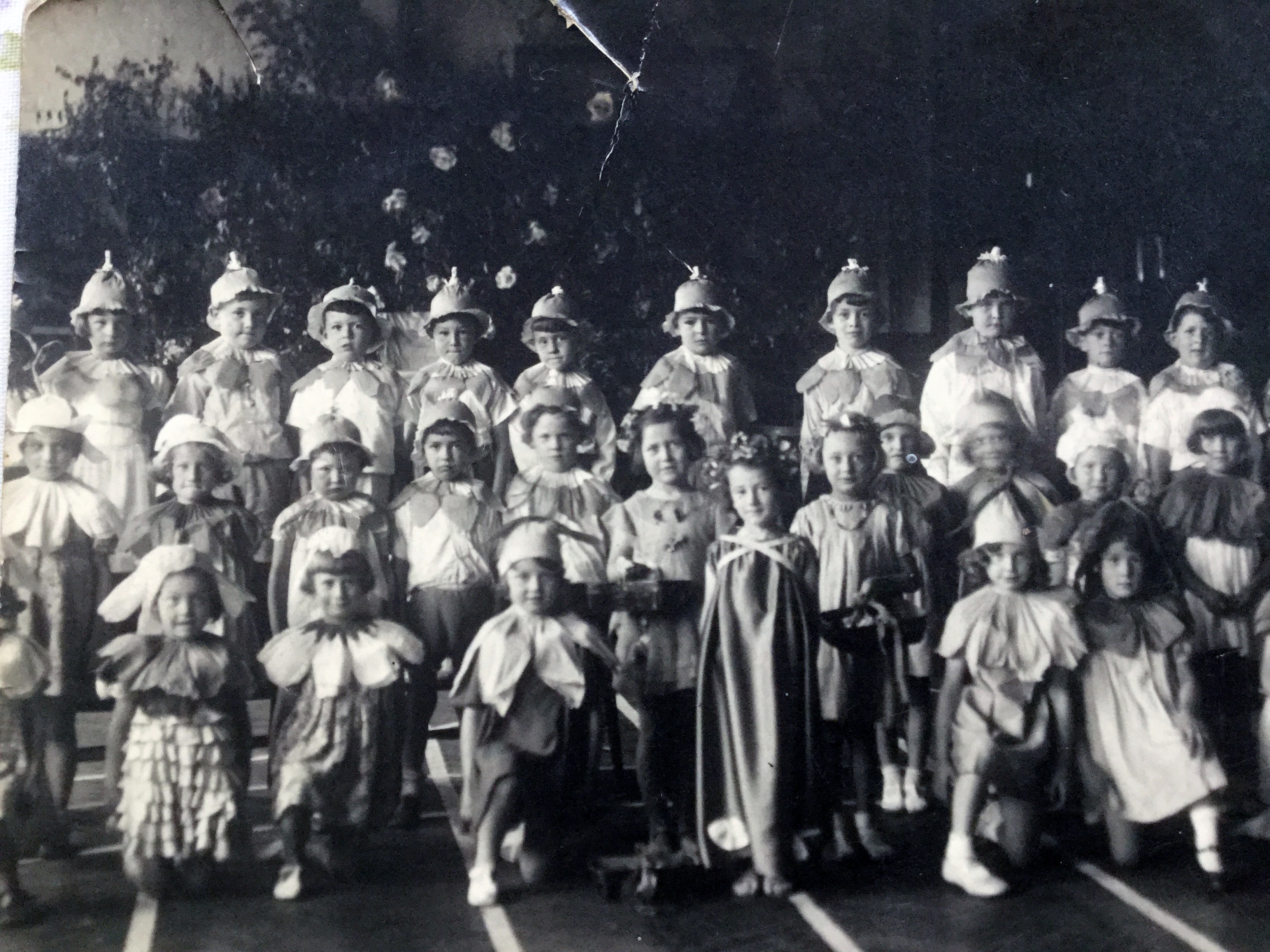 Friern Road Girls School approx 1938, Viera Rudkins is left of the May Queen
When I was five, I went up into the big girls class.
I can remember celebrating May Day, dressed in a pretty dress and skipping around the school hall with my basket of paper flowers, and scattering them.
I remember my dad who was a greengrocer, driving past in his horse and cart, and throwing me a rosy Apple which he had polished on his arm.
My mother would meet me and my sister, and Take us for a picnic lunch which she had packed into the bottom of my dolls pram. She would take us over to Peckham Rye Park, for our lunch, They were happy memories…..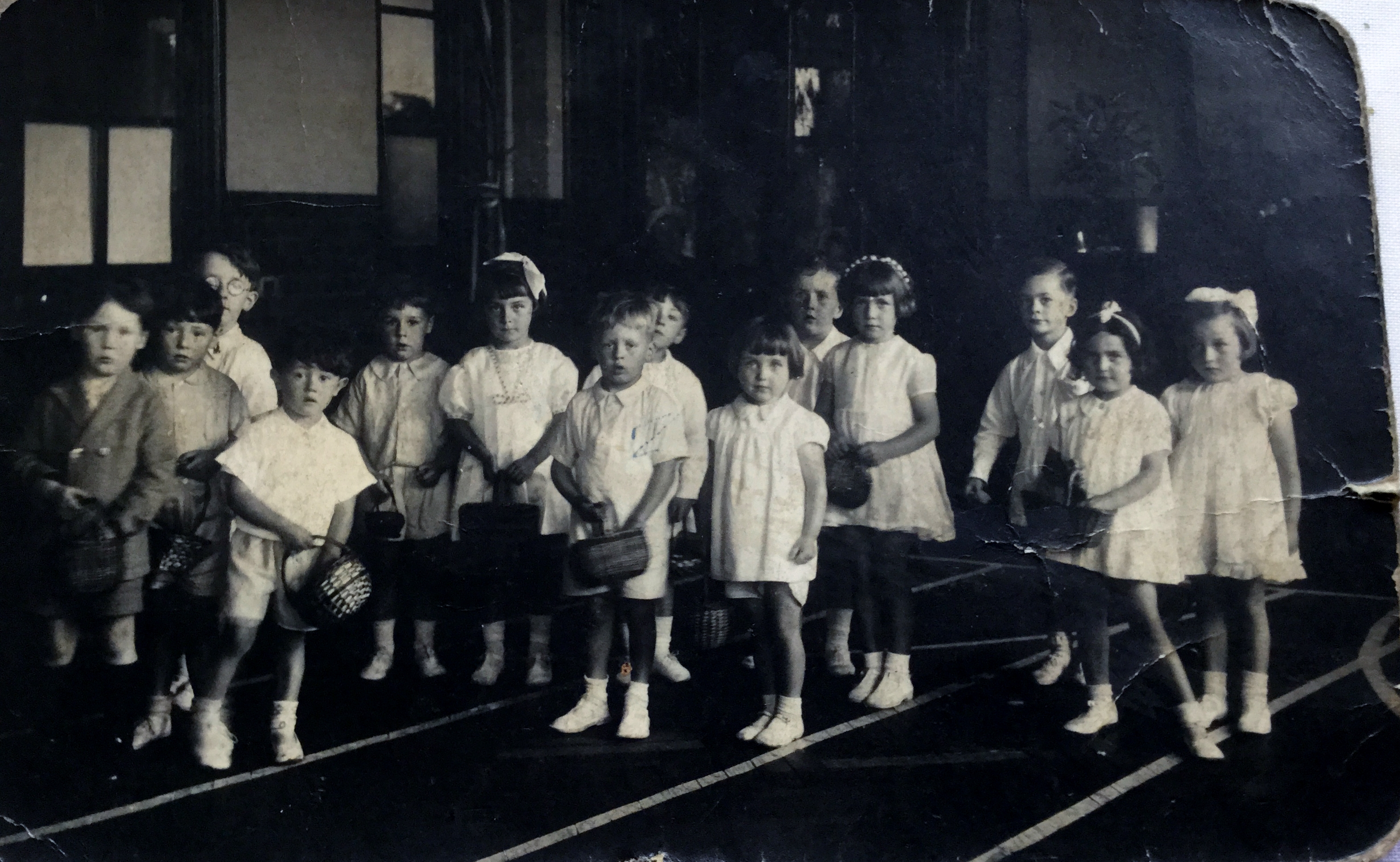 Friern Road Girls School approx 1938, Viera's sister is second from the right
Unfortunately a year later war was declared in 1939.
My mother took my sister and I down to Friern Road School, to meet up with lots of other children to be evacuated to nobody knew where…..
Before we went, we were taken into the school hall, where we were stripped down to our knickers.
There were cubicles all around the edge of the hall. The first one I had needles stuck into me, then I had my head searched for nits.
The stethoscope was put on me to check I was healthy, my teeth were checked, and my feet, and eventually I was dressed, not a very happy experience for a five year old.
I had a label tied to my buttonhole. and a gas mask put over my shoulder, and I was ready to leave my mother…..
My mother told me I was to look after my sister ( she was 4 years old). And that We were going to stay with a new Auntie who would look after us, and she would come and see us at the week-end.
There were  a lot of children from my school going to be evacuated.
We were all marched down to Dulwich Station in crocodile order with our teachers, and climbed on the waiting trains to pastures unknown..
I spent most of the war in Dorking, with many experiences, but when the air raids were at a lull, my mother would bring my sister and I home to East Dulwich, for a while.
My parents lived over a Bakers shop in the war, just around the corner from the greengrocers shop, which at that time belonged to my grandmother, My mother worked as a GPO telephonist  under St Paul's Catherdral, my father was in the army in England.
If my mother was at work and the air raid warning sounded, I was instructed that my sister and I were to put our siren suits on and I was to take my sister down to the Bake House where 2 men made the bread, and sit amongst the flour sacks where it was considered we would be safe…..
I remember there being queues outside the greengrocers shop at Xmas time in the hope that there might be a Banana, Orange, or something special for the regular customers.
Everyone had to produce coupons for these delicacies…..because they were almost non existent.
My father would be home from leave sometimes, and take his Horse & Cart round to his regular customers, for their greengroceries.
One day the air raid siren sounded and Sissy, ( the horse) , was seen trotting up the road on her own very frightened.
My mother rescued her, took her blinkers off to take her to the stable, which was at the back of the shop, but couldn't stop Sissy going round and round in circles. (Evidently that's what horses do if you remove the blinkers,) She managed to get her to the stable where she ate her whole months rations of hay in a day…..I don't know what my father did about that….
I remember one night we had a very bad air raid, when we emerged from the air raid shelter, many houses all round my fathers shop had been badly hit and bombed almost flat.
Hindmans  road, and Crystal palace road were 2 roads I remember were very badly damaged.
I remember filling my apron pocket with shrapnel, not really aware of why it was there, it glistened In the sun.
I remember in Peckham Rye Park, there was a huge Barrage Balloon, which was held down by rope, I imagine it was raised in the air when there was a raid.
I remember there was an unexploded bomb on a little bit of green opposite the park, and soldiers cordoned it off, us children didn't realise the danger, but thought it quite exciting….
Memories of my childhood as an evacuee in Dorking.
When I was got on the train to be evacuated from E.Dulwich, there was not a dry eye anywhere, and our poor mums must have been heartbroken. We were well looked after by our teachers who did their best to reassure us.
We arrived at Dorking in Surrey, and were taken to a building called Pippbrook.
All of us evacuees, were sat on a large carpet in the middle of what through the eyes of a child was a very big hall.
Lots of Woman gathered round us. We were told that these were going to be our new aunties and they had come to choose us.
These new homes were called our Billets.
My mother had asked that my sister and I be kept together, so whoever chose me or my sister had to have us both.
When we left with our new Aunties  we were given a brown carrier bag with tins of food in.
I remember our first meal with our new aunty.
She sat us on the floor, on a rag rug, in front of a kitchen range, and we ate our meal on the carpet.
I remember when my mother came to see us she was horrified, that we didn't sit at the table with the family.
She also found that my sister's hair was running alive with nits, and we were both promptly taken to a place called a cleansing station, I remember this was a very upsetting experience.
Needless to say my mother had words with a teacher in charge of us, and we were taken to our 2nd billet .
Over the course of about 4 years we were in 9 billets, all for different reasons.
We stayed in our last billet for eighteen months.
We stayed with two old ladies, Aunty Lou, and Aunty Rachel, Spinsters,
We had a very strict upbringing.
We went to church every Sunday, and Sunday School in the afternoon.
After Sunday School we went to the Cemetery to tend their mothers grave.
We had a bath in an old fashioned round paper mâché type bath, every Sunday before church, where jugs of water were carried up and down the stairs to the bedroom, where we were bathed. Clean clothes were put, on and then we were ready for church.
Aunty Rachel would dress in a Black silk dress and a black silk coat to match, a Black straw hat, Black stockings, and Black lace up pointed shoes. She carried a Black walking stick with a silver nob, and wore pince-nez on the end of her nose, and a bible in her hand.
I was expected to hold her arm and escort her to church.
(I think she looked like a witch really)
Aunty Lou seemed not so austere, she looked after my sister who was a pretty little girl  with ringlets and could charm most people.
We were only allowed to play the Zither, read the Bible  or knit scarves for the soldiers on a Sunday, because we were told it was the Lords Day.
The room was lit by a gas mantel, quite a spooky atmosphere for little girls to live in.
We went to the local church school, where we were sat 3 to a desk. My sister used to have a large spoonful of Cod liver oil and malt every morning in front of the class, because she had styes.  How I longed to get a stye…
For bad work or naughty behaviour, there was a wooden spoon, which the head master would hand out at assembly every Monday morning. I remember I was once the recipient, because I couldn't write the letter. "P"  properly. It was on a piece of string and I had to wear it around my neck…. and put it on my desk in front of me when I worked. After l week it had to be given back.
Just in case somebody hadn't noticed who had it the week before, such shame…… The headmaster would make a point of asking the person concerned if they had returned it, in front of the whole school ….. The shame was unbelievable….
We would go to the local park to play rounders with our class.
I was waiting for my turn to go in and bat and I noticed a mouse in the bushes,
I was so excited that I picked it up and took it to show my teacher, she told me it was dead and to put it back.
Unknown to her, I walked back to school in crocodile order, with it stuffed it up my jumper, I was convinced she was wrong. I needed something to love…
I then had to find a place to keep it, so I hid it under a flowerpot in the garden of my billet unfortunately Aunty Rachel found it.
I think I nearly got shut in the coal cupboard that night for being naughty…..That's what happened to naughty children.
More memories of my childhood as an evacuee in Dorking.
The " Nower" played a big part in our lives as evacuees
It was a wild and hilly parkland, the scenery was beautiful.
It faced Boxhill a famous beauty  spot.
We would enjoy climbing to the top, and picking a bunch of Harebells on the way up which grew in abundance in the rough grassland.
At the top were lots of pine trees, I remember the pine needles we're very slippery to walk on. There  was a natural sandpit at the top where children would congregate to play.
It was very big and deep, we would hold our breath to jump in it and play.
Sandmartins  made holes in the sides of the sandpit to lay their eggs.
At certain times of the year, the pine trees would shed their cones, and we would collect them to take back home to our billet for the fire.
In the winter when the Nower was covered in snow, I remember bombing down the hill on a tray, and falling off half way down into the snow, it was great fun.
I can remember some very sad moments when I would sit on a lonely bench crying for my mother, I was about 8 years old.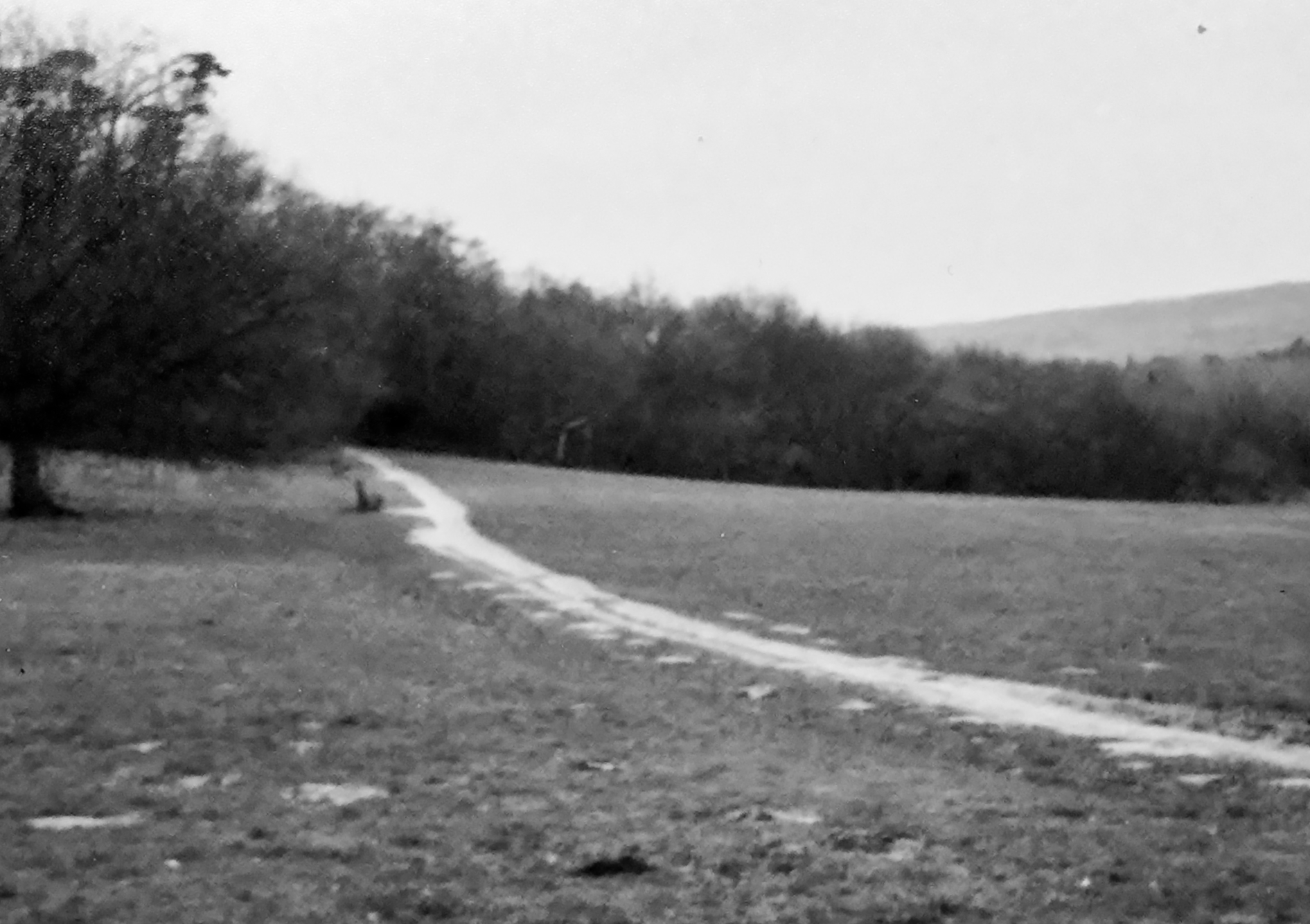 (The bench Viera used to sit on and cry for her Mummy)
Another memory I have is going to Boxhill, and climbing to the top.
In the Spring  it was covered in Cowslips, which we would pick to take home to our billet.
I was fascinated to learn about a man that had been buried upside down in Boxhill , because he thought the world was upside down, and that one day when the world became the right way up, he would be the right way up….
I saw very little of my father, because he was in the army, but one Xmas he managed to come and see us in our billet with a big tin of chocolates, which he had saved up from his sweet ration. I can remember being so upset because he had visited us on the shortest day of the year,  December 21st. and  I thought he would have to leave us earlier than other days……
My mother worked on a GPO  switchboard, in the war. She told me that when the siren was sounded, her job was to put a plug in to a series of holes, turn a handle, and that would give the signal for the siren to be sounded in that area. She had to  ring  in order of the counties there were about 20, and Dorking was on the end.
Because my sister and I were in Dorking, and she feared for our safety, she would put the plug into Dorking first, until her supervisor noticed what she was doing, and she had to account for her actions.
Fortunately, the supervisor had a heart and understood her actions, and smiled and said, we have not had this conversation….I think she must have been a mum too…
My mother used to visit us once a week for the day.
On one of her visits I remember  sitting in the middle of a beautiful Bluebell Wood, and cracking hard boiled eggs open, she had taken us out for a picnic. In the background guns were going off……
I remember on another occasion, she greeted us with a smile, but a feeling of terror came over me, she didn't look like my mummy, she had been to the dentist and was wearing false teeth, I was inconsolable….poor mummy….
I asked her in later years how she was able to "let us go ".
She smiled and said, that when war was declared, and children were going to be evacuated to pastures unknown,  she went to our doctor, Dr. Muslin in Crystal Palace Road, and asked his advice, He said that if she wanted to give her children a chance to live, to….."let us go"……….What a very brave decision my dear mother made….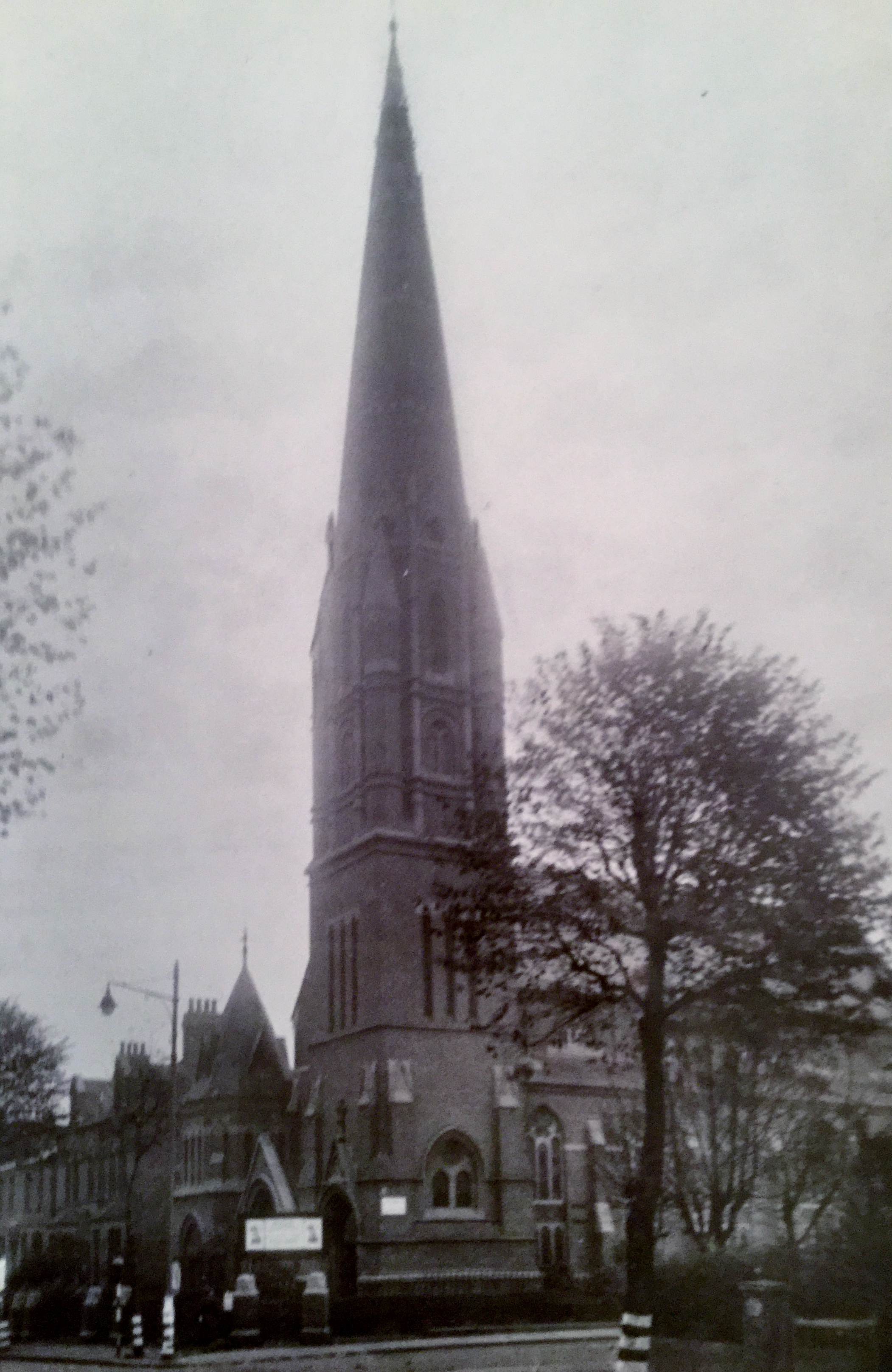 The Methodist Church in Barry Road (copyright Viera Rudkins)
Memories of my childhood after returning to East Dulwich from Dorking.
My sister and I returned to East Dulwich, when there seemed to be a lull in the war.
We returned to Friern Road School to continue our education. I remember sitting for my scholarship when I was 10 and a bit, (a year younger than all my friends,) and I had hoped to be good enough to go to Grammar School. My father had always impressed on me that to get anywhere in life, you had to go to grammar school.
I went to Sunday School at the Methodist Church in Barry Road, and belonged to the Youth Club. I used to go on Sunday School outings.
I remember on one outing, my mother packed my lunch in my gas mask case, and on the way home walking back to the station, I saw a hedgehog in someone's front garden.
I climbed over the wall, picked the hedgehog up and put him in my gas mask case.
Once on the train, I opened it up to have a look, passengers were looking in horror, the hedgehog was covered in flees………Hey ho, I loved him, I just loved anything to do with nature.
I remember on another occasion after school, I wandered over to Peckham Rye Park, where there was a beautiful Japanese Water Garden with fish swimming around that had caught my eye, I had decided I was going to see if I could catch one.
I must have laid on my tummy for about 2 hours, when I finally caught one with my bare hands. I put him in my jam jar, and was trying to I catch another one, when I heard a voice say "and what do you think your doing" I looked up, horror…….it was the Park- keeper…  He poured my fish back into the water, and took my name and address.
I went home very worried that he was going to tell my parents, I don't think he ever did!
I started having piano lessons, which I loved, with a little old lady Mrs. McGill in Henslow Road, she charged 1/6d an hour, and my mum would give her the odd packet of tea.
We hadn't been back in East Dulwich  for long, when we were woken in the night by an air raid warning, I remember we all went down into the dug-out, which is what we called the air raid shelter, which was in the garden, we seemed to be in it most of the night, the musky damp smell was awful.
I think it was the first night of the Doodle Bugs. I remember the droning sound it made as it flew over the houses very slowly and loudly, and suddenly it stopped, we all huddled together, said a silent prayer, and hoped it didn't hit us it was very frightening…..
It wasn't long after that, that my mother decided that all three of us should go up to Nottingham to stay with my grandmother where we would be safe, this we did, my mother soon found a furnished room, with a double bed, and we all slept together for a year.
The war came to an end after that year, so we all returned to our home in East Dulwich and tried to carry on as before.
There was a big street party on the forecourt outside my fathers shop, which many children , mums and dads went to, a great day for celebration….I  returned to my Piano Lessons, and Friern Road School.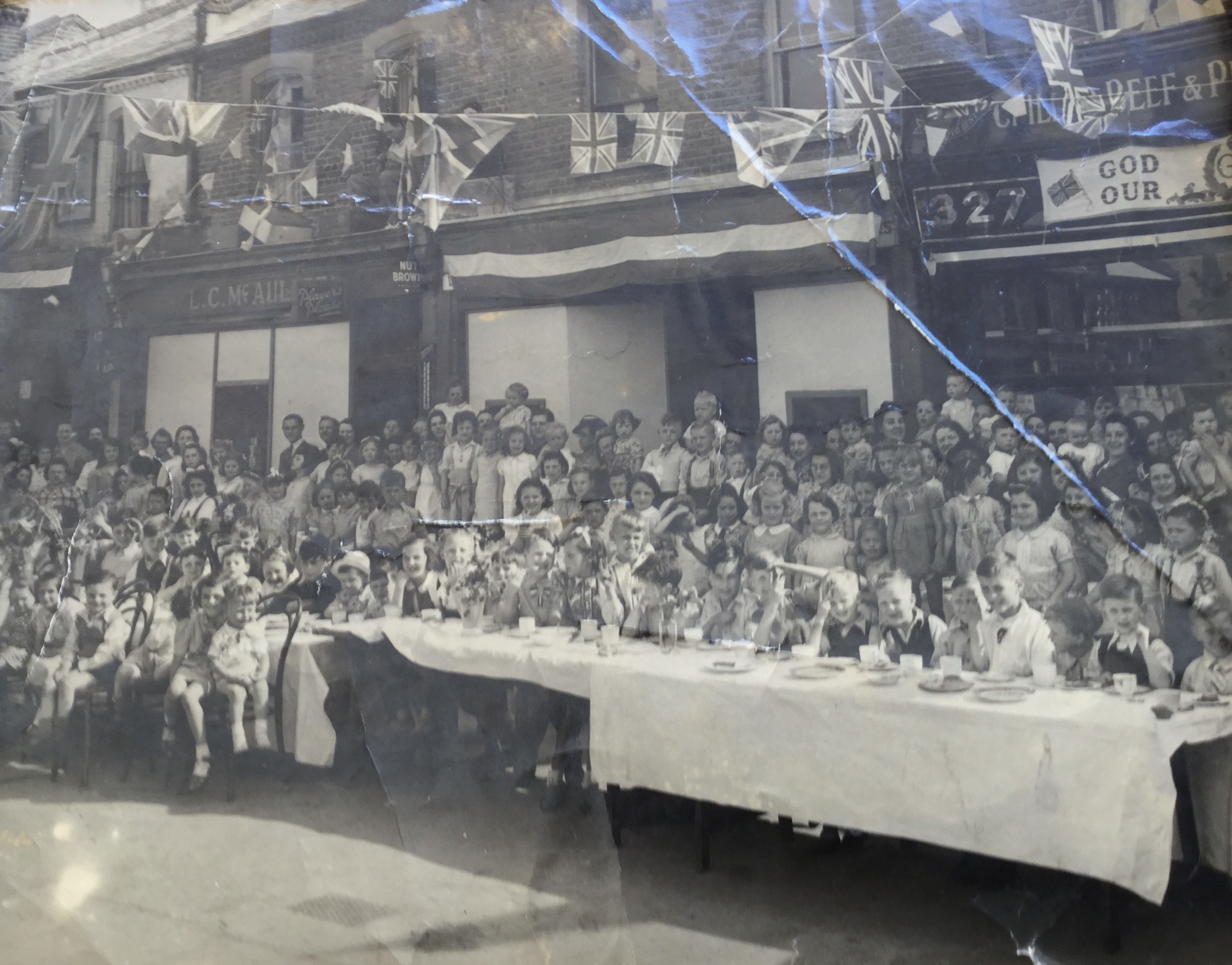 I  soon  discovered that I wasn't going to grammar school, as I had hoped. I was bitterly disappointed, I suppose it was all the upheaval in my life.
My school joined forces with Heber Road School, and when I returned for the new term,
I made friends with new faces.
However, it wasn't for long because my headmaster sat me for an Art Scholarship, I left Friern Road School and  became a pupil at The Camberwell  Art School, I absolutely loved it.
I returned to dancing classes, which I had been going to before the war started, the dancing school I went to before the war was in Barry Road, I was very young and can't remember  exactly where it was, but many children went there.
We had to call our dancing teacher Madam, and curtsy when we met to start our lesson of Tap & Ballet, I think she had a converted room in her house, she produced shows throughout the year, which she put on at local halls.
(update – Viera's Dance Teachers name was Miss Miriam Fields of 149 Barry Road, East Dulwich – Miss Fields also had a Dance School at Brixton where she taught some of The Tiller Girls to dance – copy & paste link into search bar)  http://tillergirls.com/forums/topic/yvonne-sellers-nee-woodroffe/
Madam had a son called Tammy, who was about my age five.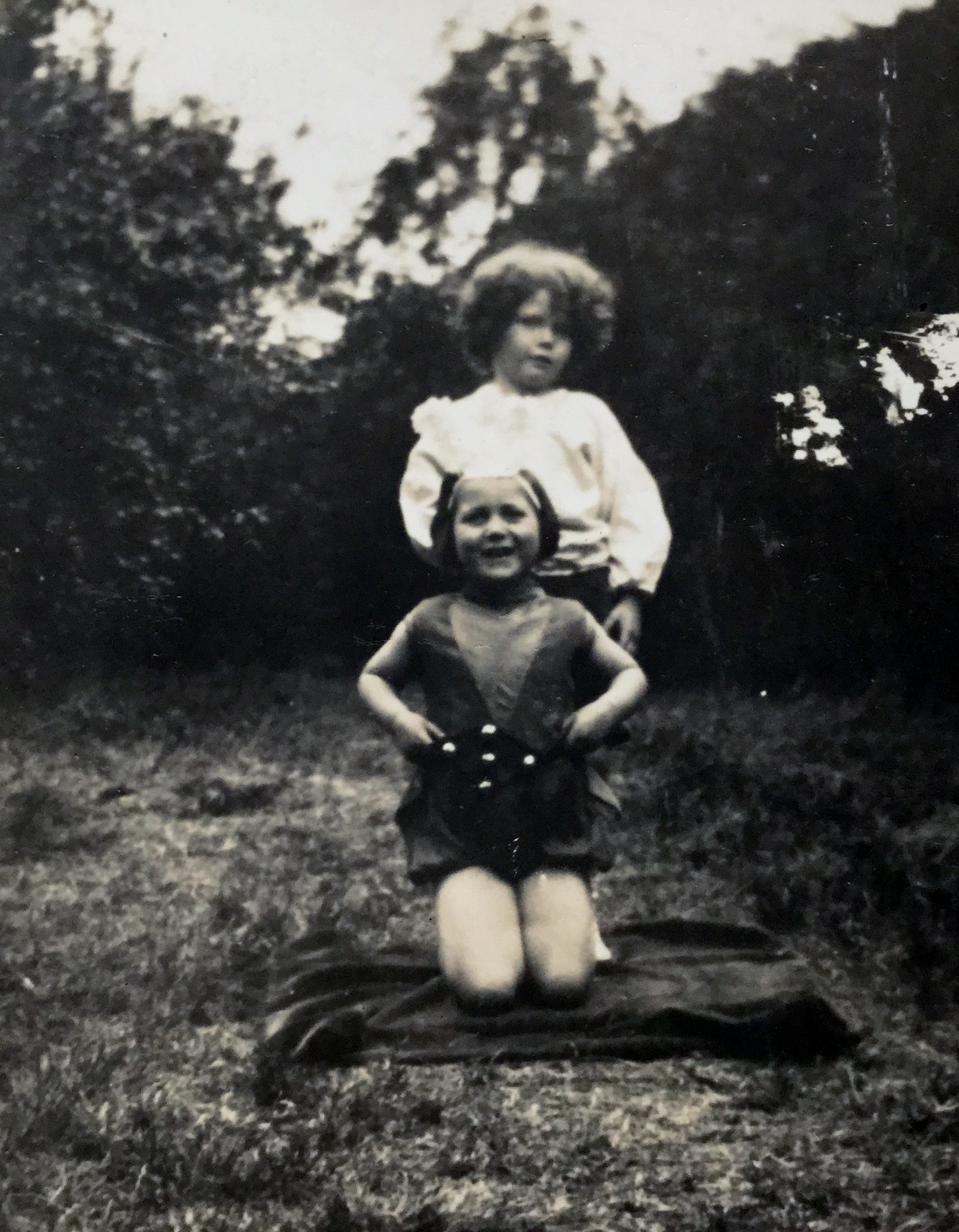 (Viera & Tammy – Viera was the Horse & Tammy was the driver)
He had a big mop of reddish curly hair, and loved dancing… She used to teach Tammy and I to dance together, I remember "Horsey Horsey don't you  stop, just let your feet go  Clippety  Clop."  I was dressed as the horse, with bells on my costume, and a feathered headdress Tammy was the driver with the reins. I think we must have been a show stopper……(we were only Five)
My mum used to go to a secondhand clothes shop in Whateley Road, known to my mum as "The Totty shop" She would look for pretty dresses and material that she could cut up and make stage clothes with.
After the war, "Madam" moved to Oakhurst Grove, Goose Green, where she had a large room which she had converted, and continued teaching us dancing and putting on shows, I believe they were held at Grove Road School… Later on in her life, I believe she moved to Jersey, Tammy went into the Airforce, he had a younger brother  (I think his name was Julienne.)
I remember a pet shop in Crystal Palace Road, I think it was called Anscombes.
in the window there were day old chicks and ducks keeping warm under a dustbin lid with an electric light bulb in.
I remember buying 2 baby ducks, I think they were 6d each….and. taking them home and trying to rear them. Unfortunately my sisters duck died but mine lived for a couple of years. I used to bath it in  a tin bath . How it survived I don't know, It even laid eggs, I suppose it was beginners luck…
There was a horses meat shop in North Cross Road, I can remember queueing for horses meat to feed our dog. The smell phew….I'm sure there were people who would buy it to make pies for their families. Meat was still very hard to come by…
I can remember the Muffin Man coming to our  house, to sell us his muffins, which were on a large tin tray balanced on his head on top of a large padded cushion, and ringing a large bell in his hand, calling  "Muffins."
I remember too, the thick fog we used to have. Sometimes it was so thick that you couldn't see a hand in front of you, this was known as a "pea souper".
I remember being  on a bus going up Barry Road, and the conductor was walking in front of the bus with a torch to show the driver the way. In those days, there was always a driver and a conductor who collected the fares.
I remember wondering why there were brown marks on our ceiling at home, and in other people's homes too, It was because nobody had central heating, and in the very cold weather,  pipes in the attic would burst, and water would pour through the ceiling, hence the brown stain.
Often I would wake up on a cold winters morning, and find the windows were covered in beautiful Jack Frost patterns.thats how cold it was. No fitted carpets, or radiators, but a floor covering we called lino, and a bedside rug. I can remember wearing my gloves in bed to keep warm…
In the winter of 1946 when there was thick snow everywhere,  I had Scarlet Fever.
Most children went into hospital, but Dr. Mushlin  in Crystal Palace Road, allowed me to stay at home, my mother had to put a wet sheet up at my bedroom door,  and lit a fire in my bedroom, The doctor visited me most days and I live to tell the tale…..how times have changed…
In later years I have been back to East Dulwich to take photographs of the places I remember. I was sadly disappointed, my fathers greengrocers shop with its Victorian dark maroon shutters to cover the very large window, and the pull down shutters at the door, are not there anymore, but a large  piece of meat spinning around on a large skewer called a kebab…….
That's progress I suppose……………….
I found two more photographs of Madam Fields dancing school, (taken before the war.)
It would be great if anyone recognised themselves.
I'm in the middle in this one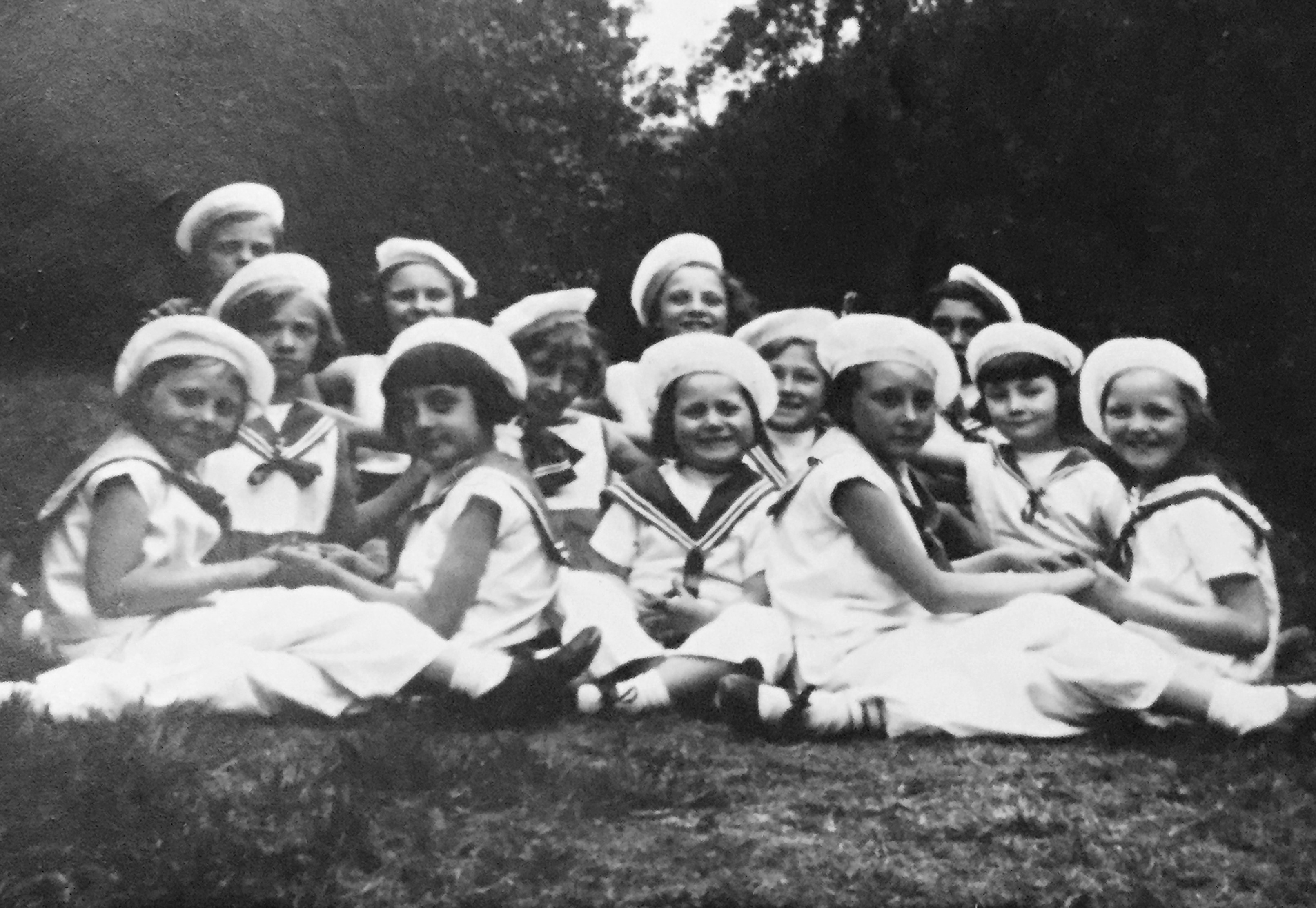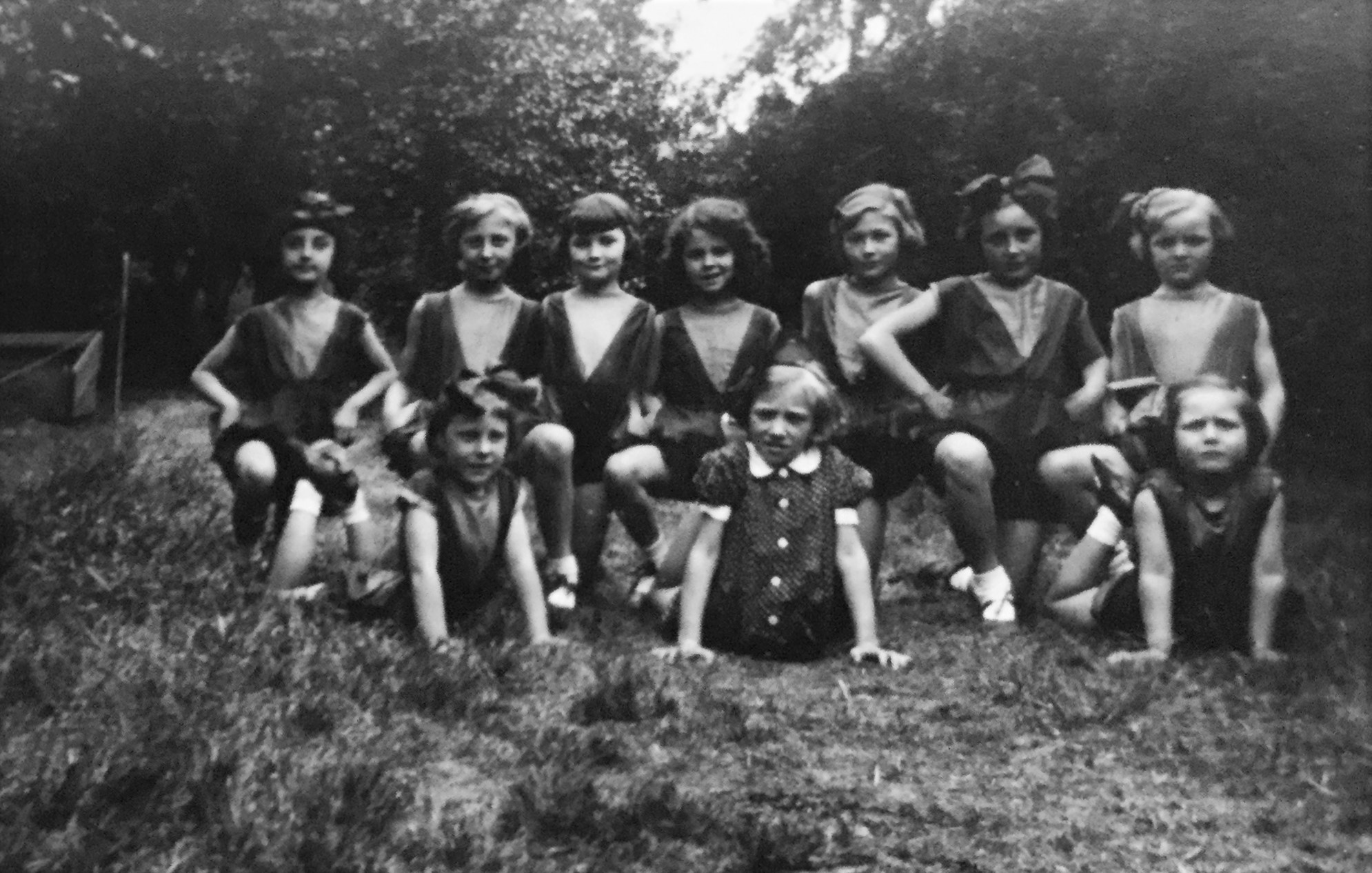 I'm on the end in this one
Below are two photographs of another dancing school I went to ( after the war). It was taken in Goodrich Road School playground. (I don't know why.)
My sister, second from left in the front row. Me, I'm fourth from the right in the front row I think I would have been about 11 years old. Madam Page is seventh from the left in the third row.
This dancing school was held in a community hall attached to a church, going up the hill towards Hornimans Museum, on the opposite side of the road.
The dancing school was know as "The Blue's Club, you got in by word of mouth I think.
Most of the girls went to Friern Road School , and later Various Grammar Schools.
My mother was very keen that we mixed with "nice" girls….oh well she did her best…
It was competitive, and everybody had to try and win points for their team.
I think points were awarded for good reports from mums, for good behaviour, good work at school, doing a good deed etc.,
I believe cups were awarded at the end of each year.
The lady that ran the club was known as "Madam Page", she promoted everything that was good and acceptable to society, with the parents encouragement.
When the lesson started we had to line up in our designated 4 teams, we then had to do a sweeping Royal curtsy and say "Good afternoon madam"and she would reply with a sweeping curtsy, saying," Good afternoon girls."
If anyone joined that had the same name as somebody else in the club, they had to choose another name, my sister's name was Pat , so she became "Jasmine".
We used to do tap dancing, ballet, keep fit, and play team games, we wore a uniform. It consisted of a black velvet short dress, with slits up the side, which just covered our bottoms, navy blue knickers, and a royal Blue cord to tie round the waist. I think there was an emblem on the left side of our chest.
The mums used to huddle in another part of the hall, knitting and chatting, and no doubt making cups of tea, they had a keep fit club of their own, led by Madam Page…(They too had the same uniform as us).
Sometimes we were invited to madams home, in the country somewhere I think, I can't remember.
I remember on one occasion she showed us how to make peanut butter toffee apples, they were delicious. I wish I could remember, the recipe….
She had some glass exotic fish which she had suspended in a fish bowl, and a beautiful miniature garden , made of shells etc., with lots of little Chinese figures, and houses which I loved….happy childhood memories.
Madam also put on shows, when we danced etc., and the mums did their keep fit skills.
All of the girls and mums in the photograph would have lived locally in Dulwich I think.
Copyright – ©  Important Notice – Please note all material on this website, photos, information & design is protected by owner copyright. It is an offence to use any of the material from this website without the owners permission.©