Brief History of Camberwell Borough Council
The Metropolitan Borough of Camberwell replaced the vestry of the civil parish of St. Giles, Camberwell, in 1900, under the terms of the London Government Act 1899. Similarly, the London Government Act 1963, which came into force in 1965, merged the metropolitan boroughs, abolishing Camberwell as an independent political entity and creating the London Borough of Southwark. It may be worth noting that the first LBS elections were held in 1964 – the London boroughs were "shadow" entities for a year (presumably to ensure a seamless transfer of power and functions). The exact dates when these acts came into force are mentioned in the Wikipedia entries.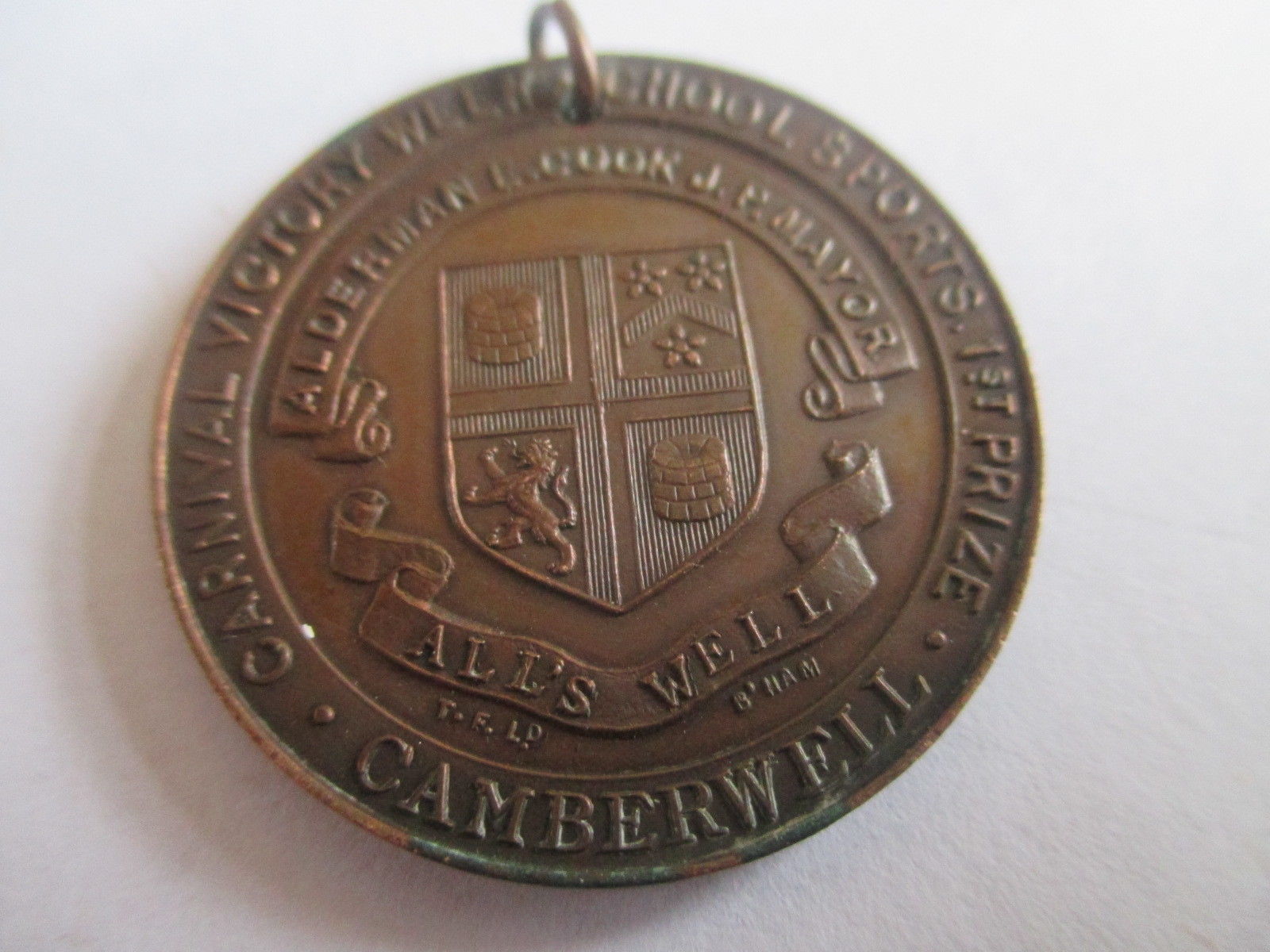 This is a First World War period copper metal sporting medal .
The vintage medal was for a school's town sports(Athletics).
The town(Borough) featured is Camberwell in South London.
The Camberwell crest is on the front
.Surrounding the crest is the inscription;
' CARNIVAL VICTORY WEEK SCHOOL SPORTS 1st PRIZE CAMBERWELL '.
The incumbent Mayor Alderman E.Cook is also mentioned on the front.
Evan Cook was Camberwell's mayor during the term 1918-1919, so this confirms that the Victory being celebrated was the First World War.
A laurel leaf frame is on the reverse, but there is no recipient's name present.
Below are some helpful links
Local History Library
Address: John Harvard Library
211 Borough High Street
London
SE1 1JA
Tel: 020 7525 0232
local.history.library@southwark.gov.uk
The Dulwich Society – www.dulwichsociety.com
The Dulwich Society aims to create the sense of community that one would hope to find in a good village, to increase awareness of local history and the character that make Dulwich special, to foster an appreciation of open spaces and trees, to introduce the people who live and work here to each other, and to help them to enjoy the atmosphere and life of Dulwich. 754
The Dulwich Estate
The Dulwich Estate is a registered charity, governed by a Scheme approved by the Charity Commission on 31 July 1995. The Charity was formally established by the Founder, Edward Alleyn, in 1619 and until 1995 was known as Alleyn's College of God's Gift at Dulwich. 761
Dulwich College
Founded by Edward Alleyn in 1619 the College is organised into four distinct schools: the Junior School, Lower School, Middle School and Upper School. The College is academically selective and benefits from historic buildings and scholarly traditions. 696
Dulwich Picture Gallery
The recently refurbished gallery hosts a magnificent collection of old masters by Rembrandt, Poussin, Watteau, Rubens, Canaletto, Gainsborough and many more. 704
Dulwich Festival
Aims to showcase local artistic talent, professional and amateur, as well as Dulwich's buildings, history and wonderful open spaces with a week-long programme of events
The Camberwell Society
Formed in 1970 and is the recognised amenity society for those living, working or interested in Camberwell
Southwark Council
PO BOX 64529
London SE1P 5LX
020 7525 5000
Tracing your Family
http://www.ancestry.co.uk/
http://www.findmypast.co.uk/
http://geneaologysupplies.com/
Ideal Homes: a history of South-East London suburbs
http://www.ideal-homes.org.uk/southwark/assets/galleries/camberwell follow this link to a very interesting & informative site
EAST DULWICH
http://en.wikipedia.org/wiki/East_Dulwich follow this link for interesting information about East Dulwich and surrounding areas
http://www.southlondonguide.co.uk/eastdulwich/history.htm history of East Dulwich
LUCAS GARDENS
http://www.londongardensonline.org.uk/gardens-online-record.asp?ID=SOU054#
Southwark Historical Maps
http://maps.southwark.gov.uk/connect/southwark.jsp?mapcfg=Historical_Selection&tooltip=Hist_tips
V1 & V2 LOGS SE 21 & SE 22 DULWICH
http://www.flyingbombsandrockets.com/V1_summary_dulwich.html
Bomb Sight – Mapping the WW2 Bomb Census
http://www.bombsight.org/#15/51.5050/-0.0900
Crystal Palace
http://www.crystalpalacefoundation.org.uk/
Friends of Peckham Rye Park
http://www.foprp.org.uk/#/becoming-a-park/4543697137
The Peckham Society
http://www.peckhamsociety.org.uk/contact/index.html
Camberwell History
http://www.southlondonguide.co.uk/camberwell/history.htm