Pauline Goldsborough (nee Matthews)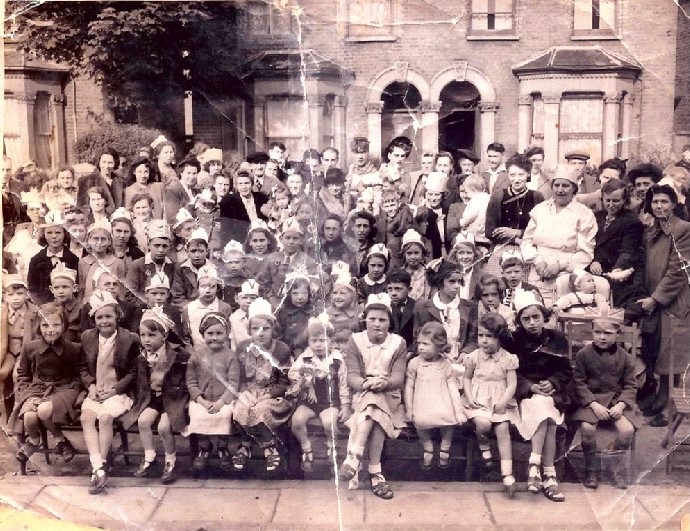 VE Day Party in Crystal Palace Road, Pauline is fifth from the left, bottom row
I think the four adult ladies in the tight of the VE Day street party are Mrs Aylward, she had daughters Joan & Margaret, Mrs Bridge, she had three daughters, Rose, Betty & Sheila, they lived at 110 Crystal Palace Road and in her 'chefs whites' Mrs Ashman & her daughter Vicky, she also had another daughter, Joan, they lived at 126 CPR, next to my grandparents. Joan taught me to tap dance.
My grandfather used to cycle to Brixton every morning, he had a 'Gammy'  leg, he worked for a bakery called Ensigns in Brixton and pulled a barrow to deliver bread, one of his customers was Dorothy Squires, the singer, who later married Roger Moore. All through the war he would never come down the shelter at the bottom of the garden. I can still remember the dreadful musty smell of it and I used to argue with my Nan over who would have the only hot water bottle. Such a relief when the all clear siren eventually went.
(This photo has been added with kind permission of Pauline Goldsborough)
I was born at 114 Crystal Palace Road, lived at 124 with my grandparents, their name was Skingley, then at 112 with my parents, their name was Matthews. I married in 1956 I am now Pauline Goldsborough. I remember all those places and shops in East Dulwich.
I then moved to a flat with my husband at 105. I went to St Johns Primary school in North Cross Road, then to Thomas Calton in Goodrich Road. I remember all the shops in Rye Lane Peckham, the fun fair every summer on the "Rye. I have an old photo of the Street party in Crystal Palace Road. I remember all the people who lived there. My mother worked in Aneloys in Upland Road for many years. My father worked at Pecrys in Deptford after leaving the army. My parents always lived in Crystal Palace Road.
What amazing memories I have of Crystal Palace Road & my friends & neighbours there. My mother worked at a place I think was called Elephant & Chemical in Neate Street, Peckham, I remember her being late & sheltering in a place on Peckham Rye when the siren went off. I was living with and cared for by my Grandparents, Ernest & Daisy Skingley, Now it is an "upmarket" place to live. I did have a look round last year with my son, we started off in Chesterfield Road as I lived there with my parents at No 36 before my father was called up. I would have been about 2 years old then. I would love to hear other people's memories of the area.
Do you remember a butchers on the corner of Hindmans Road called Cuttings, a grocers on the diagonal corner called Lewis', Alberts sweet shop a little further down where whole crowds of children would gather every evening?
Branstons, a newsagents on the corner of Crystal Palace Road, I used to do a paper round early morning before school & also after school. The bakers on the corner opposite the Upland where I remember a large white loaf cost 4 1/2!
Many years later my husband joined the Metropolitan Police & his first posting was a Crystal Palace Road. It is surprising what comes to mind reading other people's posts.
I found the company my mother worked for during the war,  Elephant Chemical Co. Ltd in Neate Street, Peckham. I used to work as a Saturday girl in RG Pecry in Rye Lane, many moons ago!
I remember Keith Dowie. His father, Bill, married my mother after his wife died & my father died. They lived in Whateley Road & when Bill died my mother moved to Berkshire. Last I knew, Keith lived with his family in Orpington.
Copyright – ©  Important Notice – Please note all material on this website, photos, information & design is protected by owner copyright. It is an offence to use any of the material from this website without the owners permission.©