If you have any short stories, and photos relating to your memories of Camberwell or surrounding areas and would like to add to this website, please email me at – writenotestudios@yahoo.com
A FAMILY HOME  by Beryl Chandler
When researching family history quite suddenly you can come across something which really resonates with you and is surprising as well.My parents lived in the same little cottage in East Dulwich for over twenty-five years, having moved there just after World War Two. John, my brother, was born there. It was the home we grew up in.
The back bedroom window overlooked our small back yard, and slightly lower were the back gardens of the houses in Colwell Road. This road was a few yards down the main road and the first turning you came to if you turned left out of our gate. The gardens we could actually see into were probably those belonging to numbers three and five.
On Christmas Day 1873 my Great, Great Grandfather's niece, Emily Noble, married Francis Paul, a Shoe Maker. The wedding took place at St. John's Church, Walworth. The couple began their married life in Reynolds Road, Peckham, moving to Oglander Road, East Dulwich, when they started their family
Their family continued to grow so they moved to number 6 Colwell Road (off of Lordship Lane), where they had a workroom and a shop where they could sell the shoes and boots that they made. Francis taught Emily his craft, which stood her in good stead after his death in 1909.
By the 1890's three of their daughters, Frances, Maud and Annie were Dressmakers and another, Clara was a Presser and Packer. They all worked for Mr Thomas Pottle, a clothing specialist who had his own premises next door at number 4 Colwell Road, In1902 Maud married Andrew Brown and they set up home at number 2 Colwell Road, in 1903 Clara married Charles Cade and they moved into number 3 on the opposite side of the road.
Frances and Annie both married in 1906. Annie and her husband, a Mathematical Instrument Maker moved to Adys Road, but Frances married Mr Pottle so of course lived at number four. So there they all were making their livings by their crafts and they were by no means the first of the family to do so.
Tambour Lace
My Great, Great, Great Grandfather, Henry, in the 1830's and 40's had worked as a Silk Velvet Weaver and his wife Sarah had been a Tambour Lace Maker
Nearly a hundred years later two of their Great, Great, Granddaughters, my mother Violet and her cousin Rhoda were both superb dressmakers, Rhoda making my mother's wedding dress from scratch after seeing it displayed in one of London's top stores, and my mother making all her own clothes from lingerie to coats. However now, these crafts, although extremely useful were hobbies.
After 1911 the years leading up to World War I and the war years shattered the Colwell Road families, as it did many others. Thomas Pottle died on a Flanders field. However their time there is part of the rich tapestry of life in East Dulwich, and literally just a stone's throw from the little house we grew up in.
A Family Home – copyright Beryl Chandler 2014
Kings College Hospital
I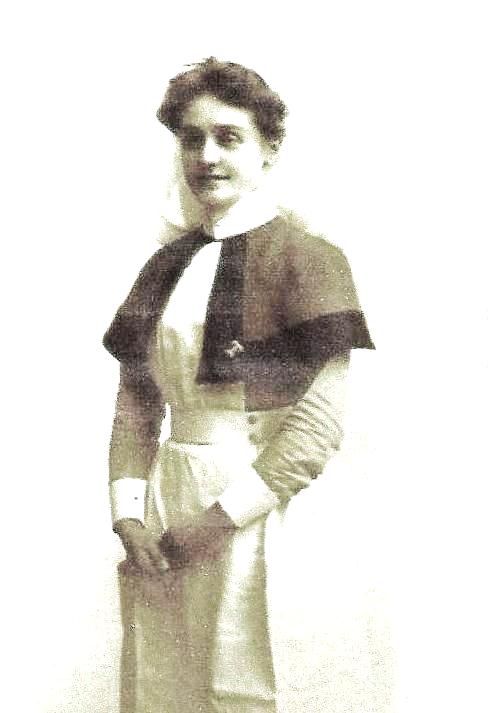 Lilian James 1911
In 2013 Kings College Hospital celebrated one hundred years on the present site.  My grandfather Ernest Noble had a cousin who had nursed there for many years.
Her name was Lilian.  My great grandfather, Henry Charles, had two sisters, the elder born in 1858 and the younger in 1863.
The family lived in Southwark, in Waterloo Road at the time of Harriet's birth and in Church Street Lambeth by the time Alice was born.
Harriet married Joseph James in 1881 and her eldest daughter was born the same year.  Lilian was her second child, born in 1884.  Harriet and her husband went on to have five more children.
When Lilian was eleven, just a few days after her birthday, her mother died.  Within six months Lilian's father had married his sister-in-law Alice. The Marriage Act of 1836 had made this kind of union unlawful and it would not be until the passing of the Deceased Wife's Sister's Act of 1907 that this would change.  It would seem that these marriages occurred quite often but the authorities did nothing about them.
Lilian's father and stepmother/aunt went to live in Cambridgeshire and some of the first family went with them.
The Kings College School of Nursing was established in 1885 and by 1901 Lilian was doing her training.
The 1911 census shows her working at Kings College Hospital on their original site in Portugal Street.
Lilian knew that nurses were supposed not to marry although some did and kept it secret.  The nurses lived in hospital accommodation and were responsible to the Matron, not just for their standard of work, but also for their personal cleanliness and the suitability of their off duty attire, and the hours that they could keep.
Lilian nursed throughout world war one having made the move with the hospital to the Denmark Hill site.
In 1920 she decided to go to Canada to see one of her sisters who had emigrated. The records show that Lilian was a Nursing Sister and that she intended to live and work in Canada; however by 1921 she was back in England.  At the end of June that year she married.  Her husband was a widower with two young sons.  He was a Master Baker with his own company.
Lilian gave birth to two daughters during the next three years. In 1937 Lilian died leaving her husband a widower for a second time and again left with two young children.
Kings College Hospital – copyright Beryl Chandler 2014
Childhood Memories
I remember sitting on the long wooden form just like the other children, grasping my slate and chalk and trying to get on with the task in hand.  I was chewing on my knitted string cleaning cloth. I could taste the chalk dust. I was concentrating and chewing and pulling and out came one of my bottom teeth.  This was the beginning of 1946 and also the beginning of my schooling and I was a new pupil at Dulwich Infants.  I was anxious and sad.  The war was over, the father I did not really know had come home, we had moved to this place called Dulwich, away from my beloved Nanna and now I was here in this place called school with a lot of strangers.
Our new home was off of Lordship Lane.  The cottage was on the end of a row of four.  There were two rooms downstairs, a living room and a 'best' room.  Upstairs were two bedrooms.  No kitchen, bathroom or inside lavatory.  At least the latter was attached to the back of the building so we did not have to walk to the bottom of the garden or across a back yard. The living room was a reasonable size.  There was an under stairs alcove, the part with the lower ceiling was a cupboard with a sunken floor and the part of the alcove with the higher ceiling housed a shallow brown stone sink.  The copper boiler was built next to that.  To heat the water for washing clothes you had to build a fire under the copper.  My mother was having none of that so my father knocked the copper down and put a drainer over the space.  He had the gas board install an Ascot water heater on the wall above the drainer.  The gas stove was also in this alcove. My parents put up a full length curtain that could be pulled round the alcove to afford some privacy when washing.  The black range on the other side of the room stayed in place for rather longer but that eventually gave way to a gas fire.
Although the walk to school seemed quite long to my little legs, in the summer I enjoyed it.  We would walk along Townley Road past Alleyn's school playing fields and round into Carlton Avenue, up the rise to the church and down the other side to the village.
That autumn my brother was born.  The small bedroom was mine so he slept in his cot in my parent's bedroom.  There was a fire place in each bedroom, but I can only remember there being a fire in either room during someone's illness.  There was a gas ring in the main bedroom.  My mother would take a small saucepan of water and a bottle for my brother's feed, up to bed with her.  By the time came for his next feed the water in the pan would be solid, and my brother would be blue from the cold, literally, because he always kicked his blankets off during the night.  This was the winter of 1946/7.
No double glazed windows, no loft insulation, and in our house no electricity, the only spark we had was my father, he was an electrician!  He would put a little oil lamp under the water pipe in the outside loo to stop it from freezing.  This worked but of course it made no difference to the lavatory seat so it was our rear ends that froze.   The lamp did provide some light so there is always a bright side.  Ice on the inside of the windows; and icicles, nearly as long as my arms, hanging from the roof greeted us every morning.
School was warm because each classroom had a large coal heater in it, black like our range with huge guards round them.  After intense cold and snow and ice came the spring with high winds and floods, the melt water which came down the Lordship Lane hill stole up our long front gardens and then into the house.  Fortunately there was only enough of it to rise the few inches to come over the step and into the hall, never quite reaching the living room or front room.
At last the summer arrived.  The sun shone, the Alleyn's boys wore their blue corn flowers on Founder's Day and the School Army Cadets got their field guns out and oh what a racket they made.
It would soon be my seventh birthday, but my mother had to go into hospital at Charing Cross for a thyroid operation. Children were not allowed in the Surgical Wards, but Matron made it a special treat for me to visit my mother on my birthday.  Nana came to look after us whilst mummy was in hospital and away in Seaford convalescing. As my brother was so young, our Auntie Vi came over from Tooting each day to help Nana.
I was getting excited, the summer holidays would soon be here, and sometime in the new school year I would leave the Infants and enter the Dulwich Hamlet Junior School, new experiences and new horizons and independence of thought and action lay ahead, along with some success and trouble.  I would also find that the limitations of my home were not all bad and that new inventions would give us some labour saving devices.
Starting in the Junior School was quite a culture shock.  There were two entrances, one for boys and one for girls.  The classrooms looked large and the hall seemed huge.  There were two playground areas, girls and boys being segregated.  We now had desks and paper and pencils, pens and ink.  The greatest joy for me was the books; I was already an avid reader.  At home Enid Blyton, Milly Molly Mandy, Aesop's Fables, Grimm's Fairy Tales, The Arabian Nights were all eagerly devoured.  When reading I entered the magical world of imagination and to gain my attention my mother would throw a wet cloth at me.  Out in the playground there were seasons for the different activities, skipping and 'Higher and Higher' (a kind of high jump game using a skipping rope, which Health & Safety would never allow now); Five Stones and Two Balls, Tag and 'What's the time Mr Wolf'.
Up until this time my mother had always walked me to school, she would get provisions at the Grocers in the village and then go home.  Now she had to bring my brother in his pram and was finding the two round trips a day time consuming and tiring.  She decided that from now on I was old enough to make my way by myself.  This was such exhilarating freedom.  I could now explore the other roads that we usually passed by.  Could I still get to school if I went up Dovercourt Road?  I tried walking through the park on the way home.  These excursions made me late for school in the mornings and late home in the afternoons so I decided that I would pursue them at the weekends.
If on the way home I saw the boys playing cricket on the pitch nearest our house then I would go up stairs to my parent's room and watch the game out of the bedroom window.  This was the beginning of a life- long love of the sport. Later as teenagers my friend and I would spend many a day during the long summer holidays at the Oval ground watching Surrey County team play.  Cricket was another thing that got me into trouble at school.  In the summer the boys often chalked wickets on the far wall of their playground and played a game of cricket during the lunch hour.  I joined in, breaking the rules segregating girls and boys and although I was told off about it I continued to transgress.  One afternoon Mademoiselle caught me and reported me and this time I was caned.
There was not enough room in the hall for us to all have our dinner there so the classes took it in turns to go 'out to lunch'.  We would crocodile our way along to Half Moon Lane and the Pub. There was an out building rather like a barn and we would have our meal in the upstairs room.  Memory can be rather selective so whether this is entirely accurate I don't know.
In the spring the school celebrated May Day.  We would have a May Queen with her attendants and a May Pole.  The May Queen usually arrived to the strains of the Crown Imperial march.  There would be other entertainment; I remember that one such occasion was the first time that I sang a solo in front of an audience.  On this special day our headmistress would wear a long black lace dress and put her cigarette in a holder.
Spring was also the time for the beautiful rhododendrons to bloom in the park, I always went to see them.  There was a secret place in one of the areas; if you crawled through a small gap in the bush you entered a clearing in the middle of several of the bushes.  The ground beneath was peaty and soft and the blossoms met overhead in a cathedral dome like way.  It was a quiet peaceful place to read, draw or just chew on a liquorice stick bought at the village tuck shop and day dream.
In the school holidays my friend and I would rise early and walk for miles. Sometimes around the village, I was interested in all the different styles of houses and some roads were really lovely. Eastlands Crescent with its almond trees in full bloom was one of my favourites.  If we were feeling really energetic we would walk through the village and up to Crystal Palace. Sometimes we would walk along Townley Road, across East Dulwich Grove and down Green Lane.  This was an unmade road which went right through to near Red Post Hill; on the right were the remains of the Bessemer Grange estate.
By now I was old enough to be given chores and sent out to do some of the shopping.  On the corner of Colwell Road was an Iron Mongers shop.  He sold candles and matches and gas mantles and block salt and draught vinegar.  I would take an empty bottle with me to bring back a pint of the liquid, a mouthful of which I would always take before getting home.
Down by Pellet Road was a small terrace of shops one of which supplied and recycled accumulators. These were large glass batteries about the size of a preserving jar, and we used two of these to power our radio.  Later on we would rent a radio from British Relay, cable radio if you like.
As far as housework was concerned it was a case of broom and pan and carpet sweeper and beater.  The rugs used to be hung over the line in the back yard and beaten hard to get all the dust out, usually all over me, funny we never had any allergies.  Mum still had to do all the washing by hand, we would pull the sheets hard after wringing them out and folding them then put them through the large mangle in the shed, then hang them out to blow.  When we first moved to the little house the only irons we had were flat irons which had to be heated on the gas stove, but some years later someone invented a gas iron.  You attached it to the gas supply by a flexible tube which took the gas to downward facing jets which when lit heated the sole plate of the iron, the beauty of it being that it was shiny and clean and the heat could be regulated by turning the gas up or down.  Before anyone else had dimmer switches for their lights I could turn the light in my room up or down as I fancied.  Then one day my father came home with a vacuum cleaner which worked by friction, at last we had some mod cons even if they were so different to other peoples.
Having a bath was still a huge job, get the tin bath in from the shed, fill with hot water, place the clothes airer round the bath and hang with towels to afford some privacy, undress and climb in.  When you were finished start the job of emptying the bath, my father used a short rubber tube and started the flow rather like using a pipette.  Trouble was we had to open the back door and put one end of the tube out to the drain.  In winter if you have just bathed this is a bit chilly. When I was older we stopped this practice and would go down to the baths at Dulwich Baths.  I can't remember how much it cost to hire a bath, but it was much better that all that old rigmarole at home.
I was nearing the end of my time at Dulwich Hamlet.  Last thing in the afternoon our teacher would read to us, playing all the characters, it was like a serial. On Friday the last part would always end on a cliff hanger and a horde of children would descend on the Dulwich Library wanting to take the book out to find out what happened next. The Little White Horse and The Secret Garden were two of the books introduced to us in this way.
Saturday mornings would find me with friends at the Odeon cinema at Goose Green queuing up to get in to Saturday Morning Pictures. After the show we would perhaps pay a visit to the shops in North Cross Road.  One was an outfitters and haberdashery, the lady who worked there fascinated me; she wore a lot of make-up, huge ear-rings and had the longest reddest finger nails I had ever seen.
Other times we would walk up Dog Kennel Hill and along Denmark Hill to Ruskin Park, when we did this we always came back home on the tram.  Coming down Dog Kennel Hill seated on the horse shoe seat up stairs, the tram swaying from side to side and us sliding round the seat from one side to the other.
The most enduring 'picture' in my memory of those years is of the view out of our front bedroom window, across the school playing fields to St Barnabas church on the crest of the hill.  When I heard the news on the television of the fire which destroyed so much of the church I felt as if someone had stolen something from me.  Later I read about the rebuild and my husband and I decided to come up for a visit to see the new church.  It is beautiful, with the lovely rich brown wood inside and the glass spire outside.  In the exhibition in the foyer we enjoyed reading about the way the church had been rebuilt after the fire.
Then in one of those circles of circumstance which life sometimes throws up I recognised the name of the building company responsible for the re-build, it was the firm established in the 1700's in the town which has now been my home for the past forty eight years.
Childhood Memories – copyright Beryl Chandler 2014
Link to some fantastic memories at Dulwich on View http://dulwichonview.org.uk/?s=memories+of+1940s+dulwich