Heber Road School
Mr Heaster (Heber Road School Headmaster in the 1950s/60s) with some of the pupils. This photo was taken in the mid 1950s, Christine Davies top left corner. This photo is courtesy & copyright of Christine & John Davies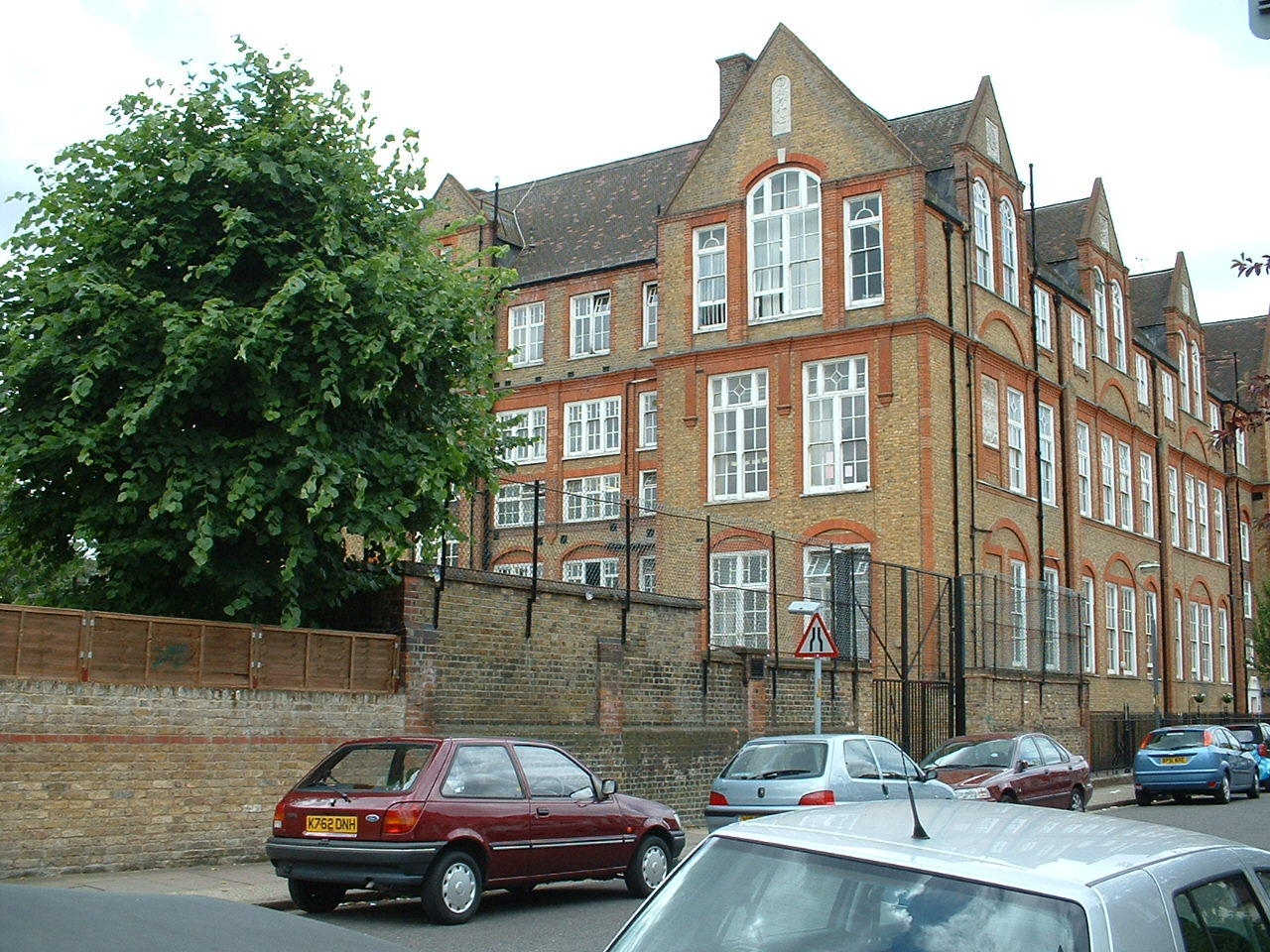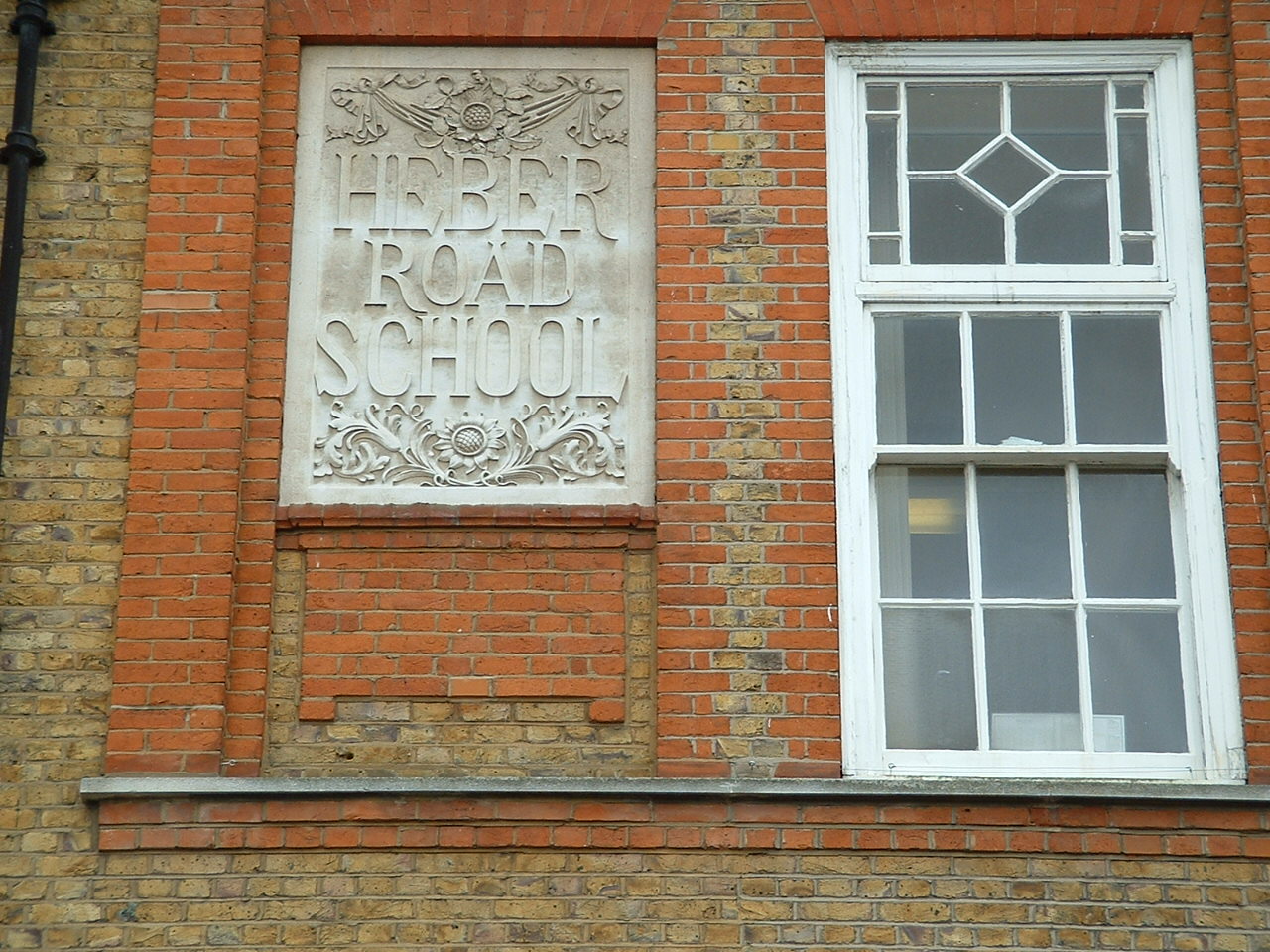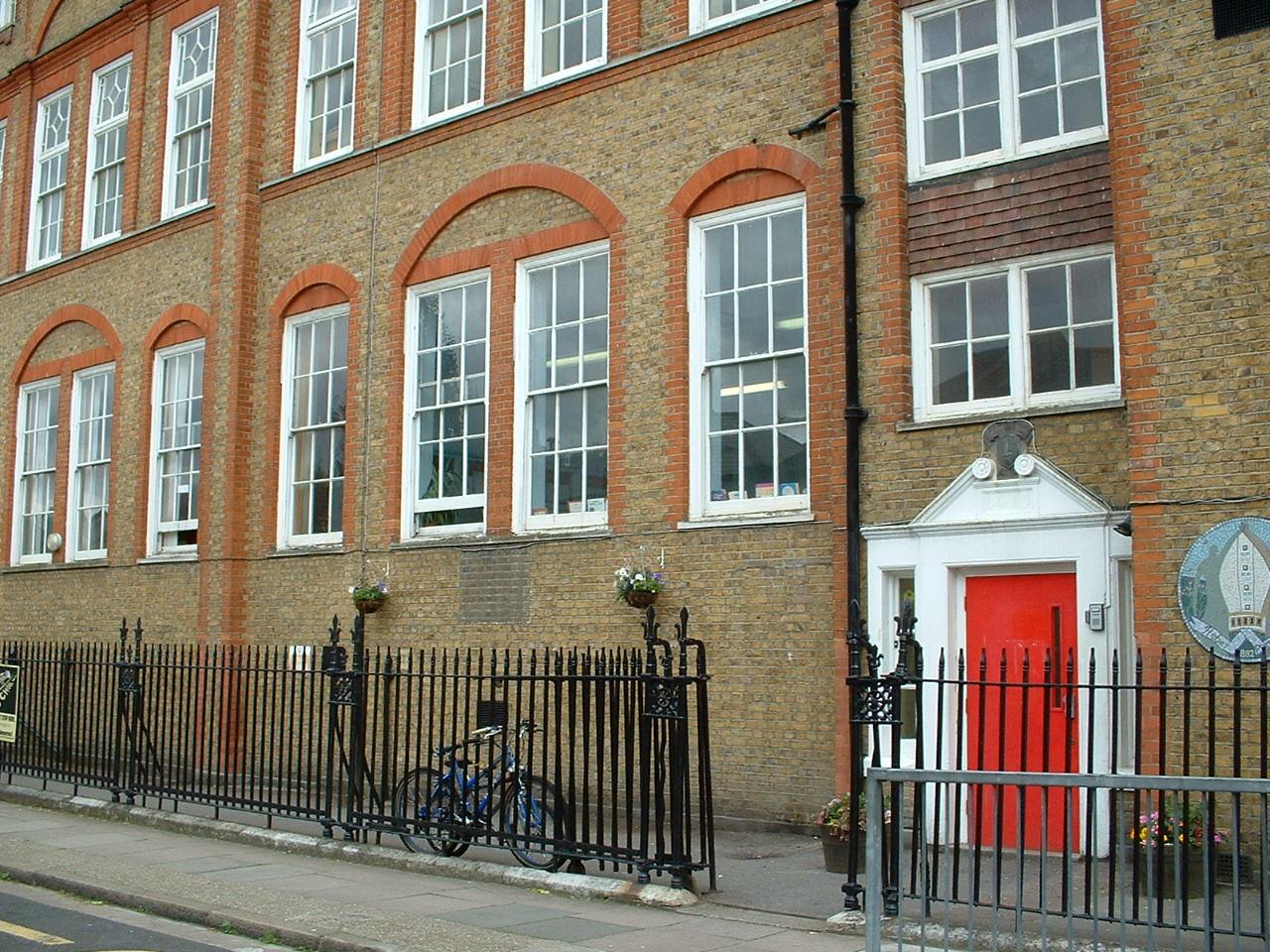 I attended Heber Road Primary School from approx 1957 – 1963, My Brother Frederick Chinery is five years older than me and attended Heber Road approx 1952 – 1958, he is pictured below, 2nd from the right, next to the lady teacher, back row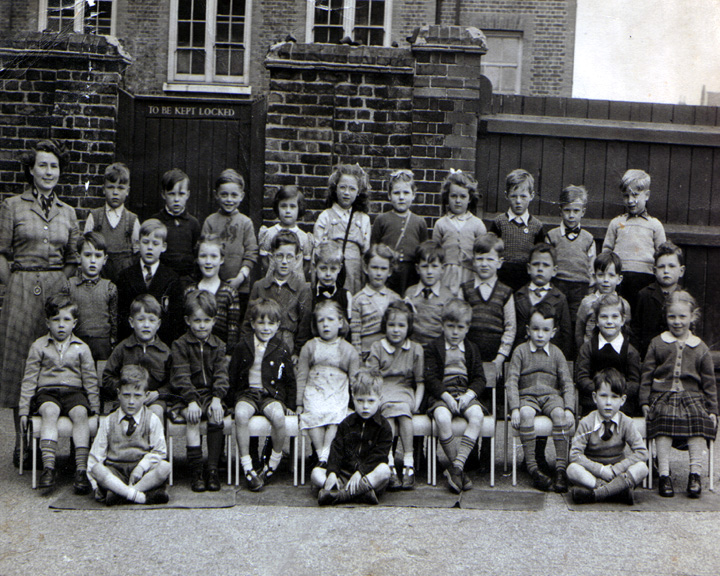 John Jackson wrote : "I am in the first group photo in the back row, second in from the right. I doubt the bow tie was my idea. The teacher is Miss Robin who married a little after this photo was taken and then came Mrs Moth I believe. My best friend there was John Pitter who is on the other end of the middle row just in front of Miss Robin.
When I left Heber in 1959 I went to William Penn which I did not enjoy but managed to have a successful banking career in the city which was great fun as well.
My late wife trained as a nurse at Kings College Hospital.
I lived in Barry Road until 1957 then we moved to Sunray Avenue in North Dulwich.
I also went to Cubs at Heber, 8th Camberwell (1st Australian)"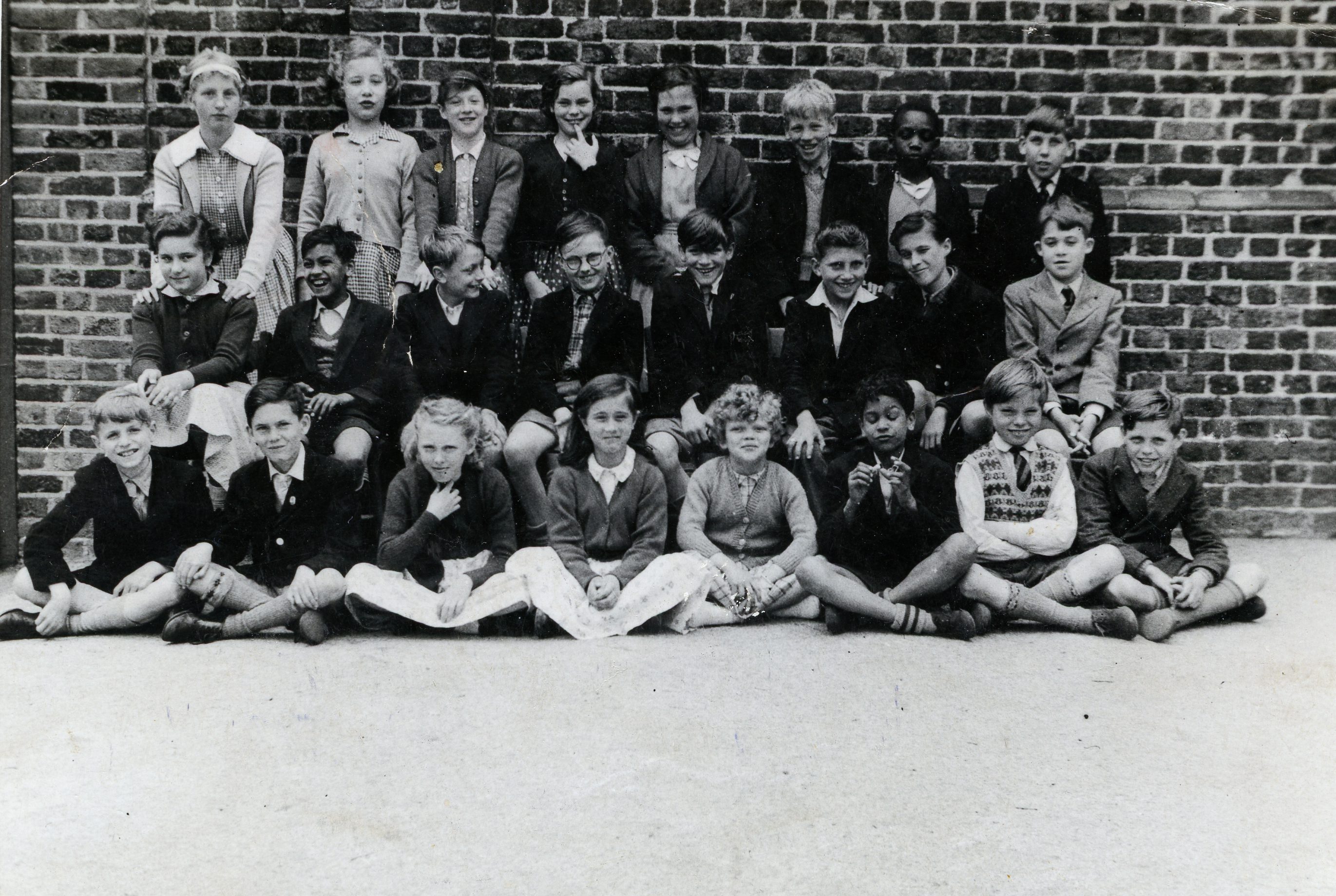 My brother Freddy is pictured in the middle of the above photo with the cheeky grin & glasses
My brother Freddy is pictured below in the classroom, front row, 2nd from the right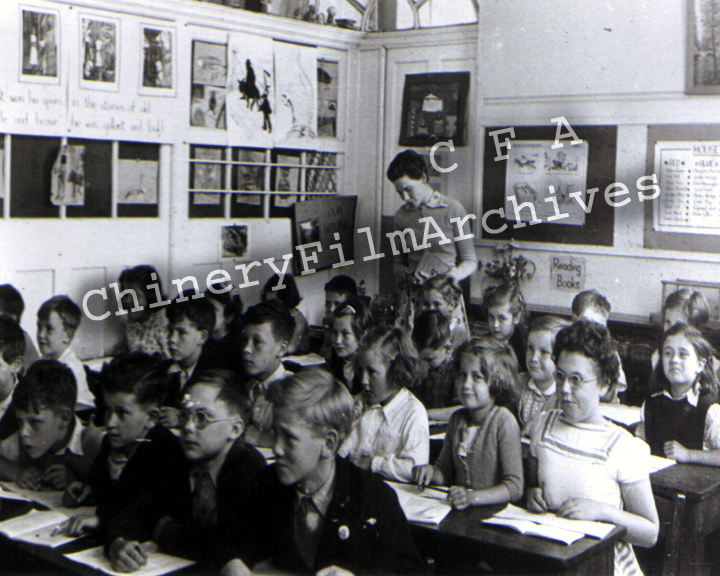 Below is a photo of my Dad, Frederick Chinery Snr at Heber Road School, back row, 2nd from the right, this photo was probably taken around 1934/35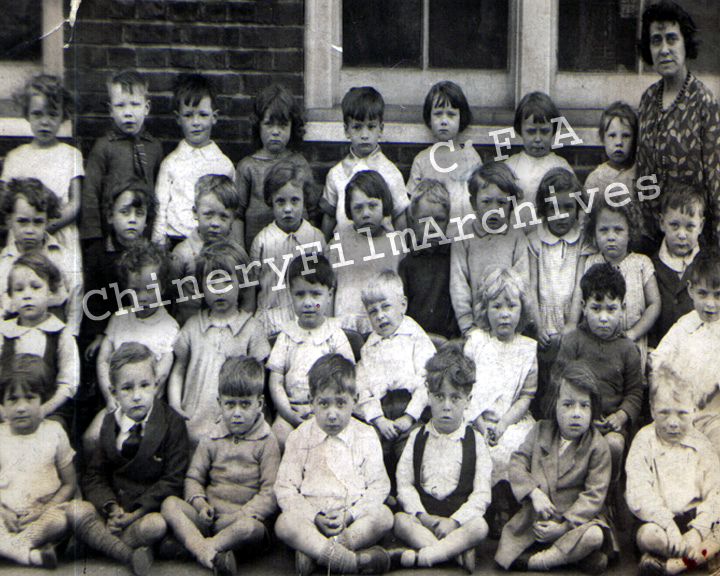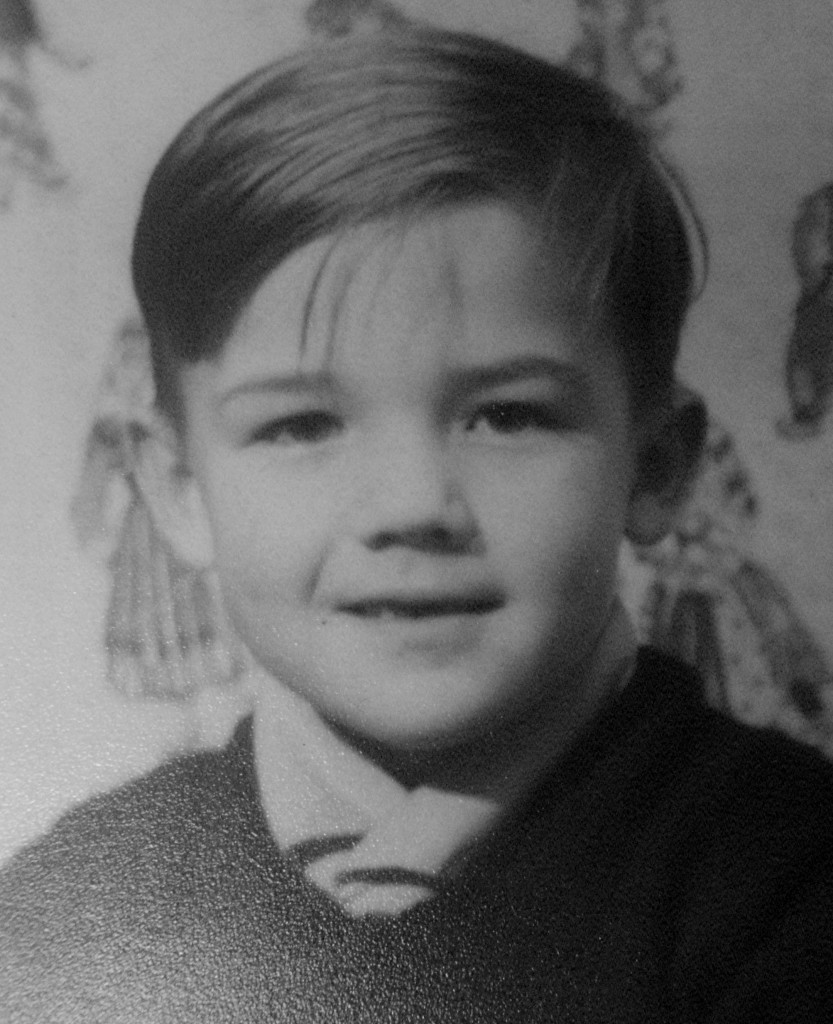 John Chinery approx. 6 years old
Heber Road School Report Below
Miss Dyson & Mr Heester's Signature's Below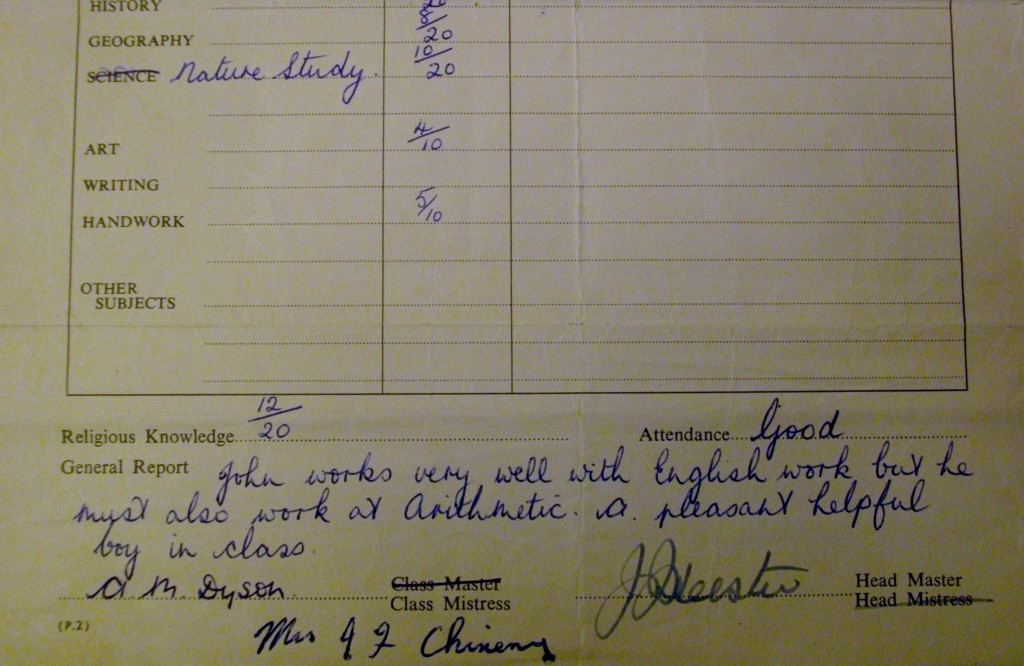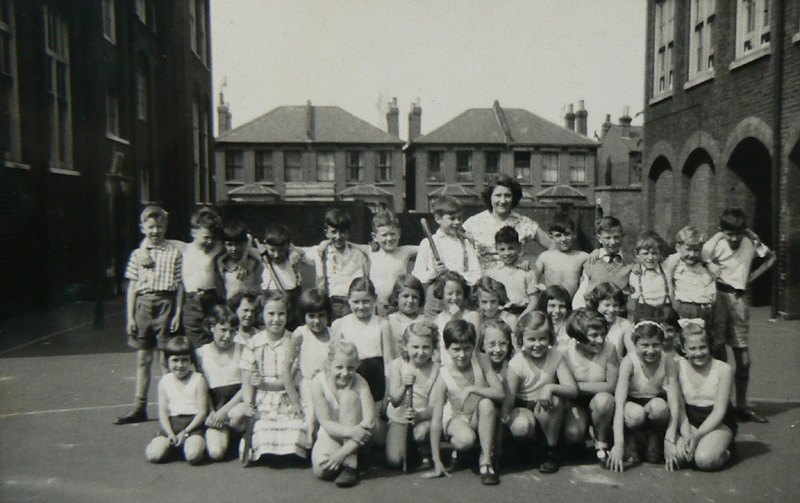 Photo by kind permission of Pamela McNamara
The photo above was taken in the boys playground at Heber Road School between 1958 & 1961, the Science Lab on pillars to the right, the school to the left, and the houses at the back are situated in Heber Road. The copyright to this photo belongs to Pamela McNamara. Pam is the one far left at the front, kneeling. Pam recalls,
"I don't remember much but Miss Bromley was lovely. And I remember Mr Ibbotson slippering the boys. I was always last in any sports as I was the smallest person in my year (probably in the whole school!!). I hated PE and sports and always tried to get out of them. I think I remember a shop called Bradshaws which was on Goodrich Road. I remember the two off licences opposite each other on Goodrich Road too – one run by Mr Cross and the other by Mr Evans. I was born in 1951 and started at Heber in 1956. I lived in Friern Road. I remember 2 boys in particular – Paul England and Peter Morris. I was friends with them. I remember that I was neither happy nor unhappy at the school. It was just school.
Many Thanks for your help Pam.
Heber Road Infants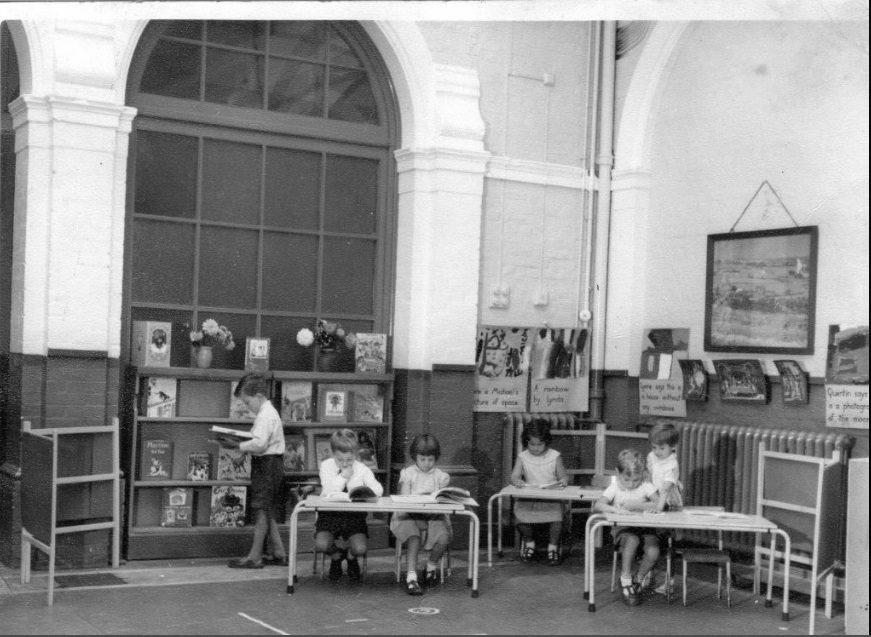 1958/59 was the year I started school
Photo by kind permission of Joan Umlandt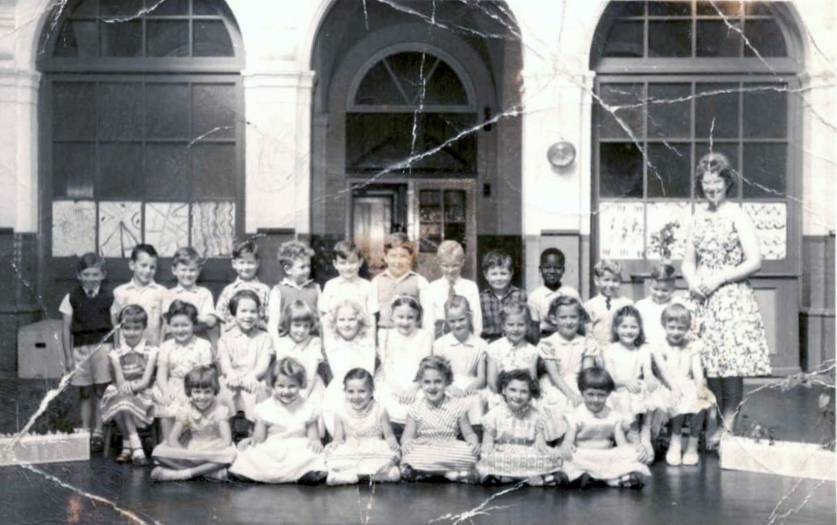 About 1958/59 – Miss Williams was the infant teacher
Photo by kind permission of Joan Umlandt
Thomas Calton Secondary School – Adys Road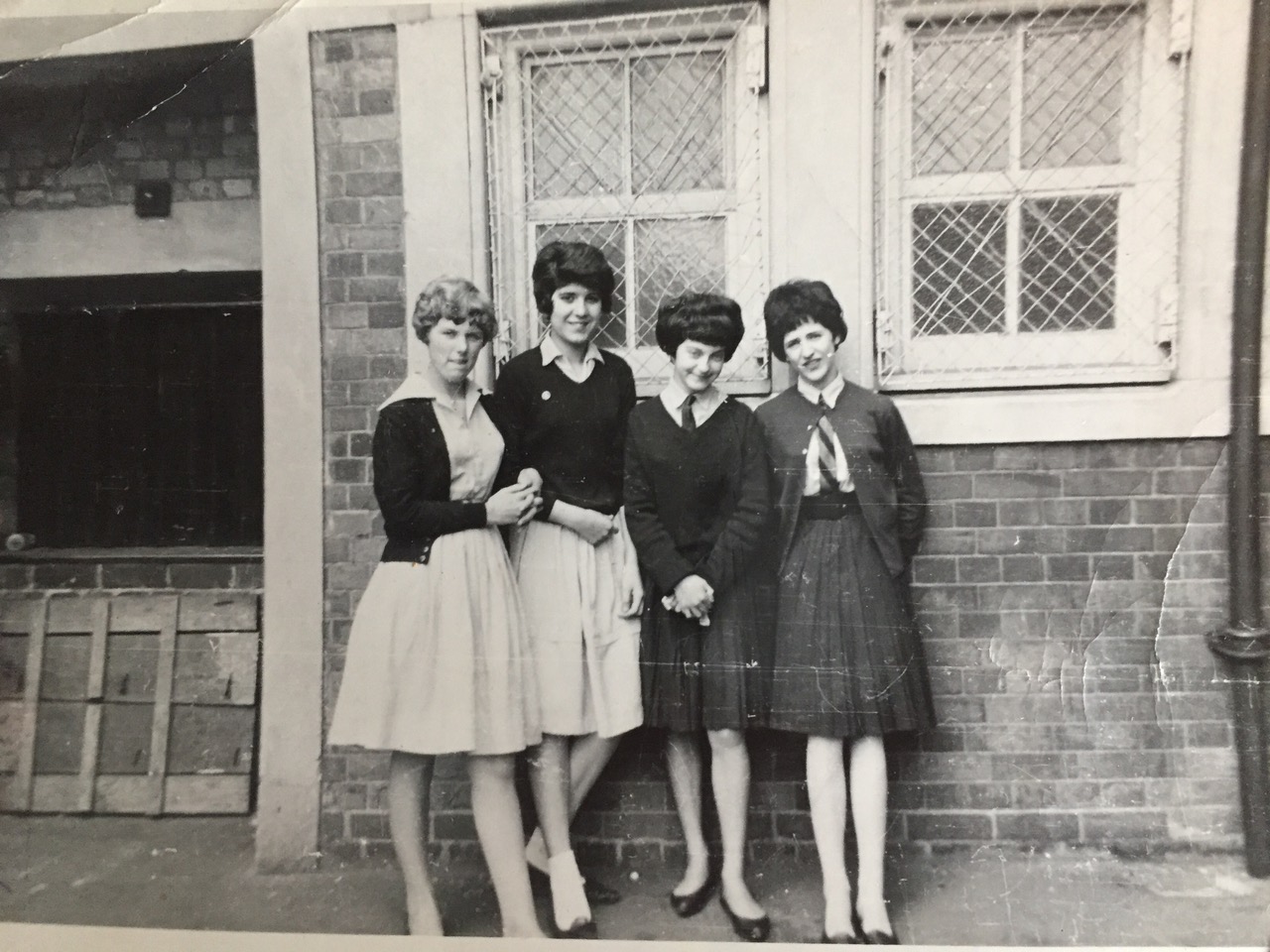 Sandra Raines, Christine Davies, Mary Seal & Marlyn Bamton at Thomas Calton in 1961
(Photo courtesy & copyright of John Davies)
After me & my brother Freddy Chinery left Heber Road we both went to Thomas Calton Secondary School, there was two parts to this school one was in Adys Road and the other was in Choumert Road, Peckham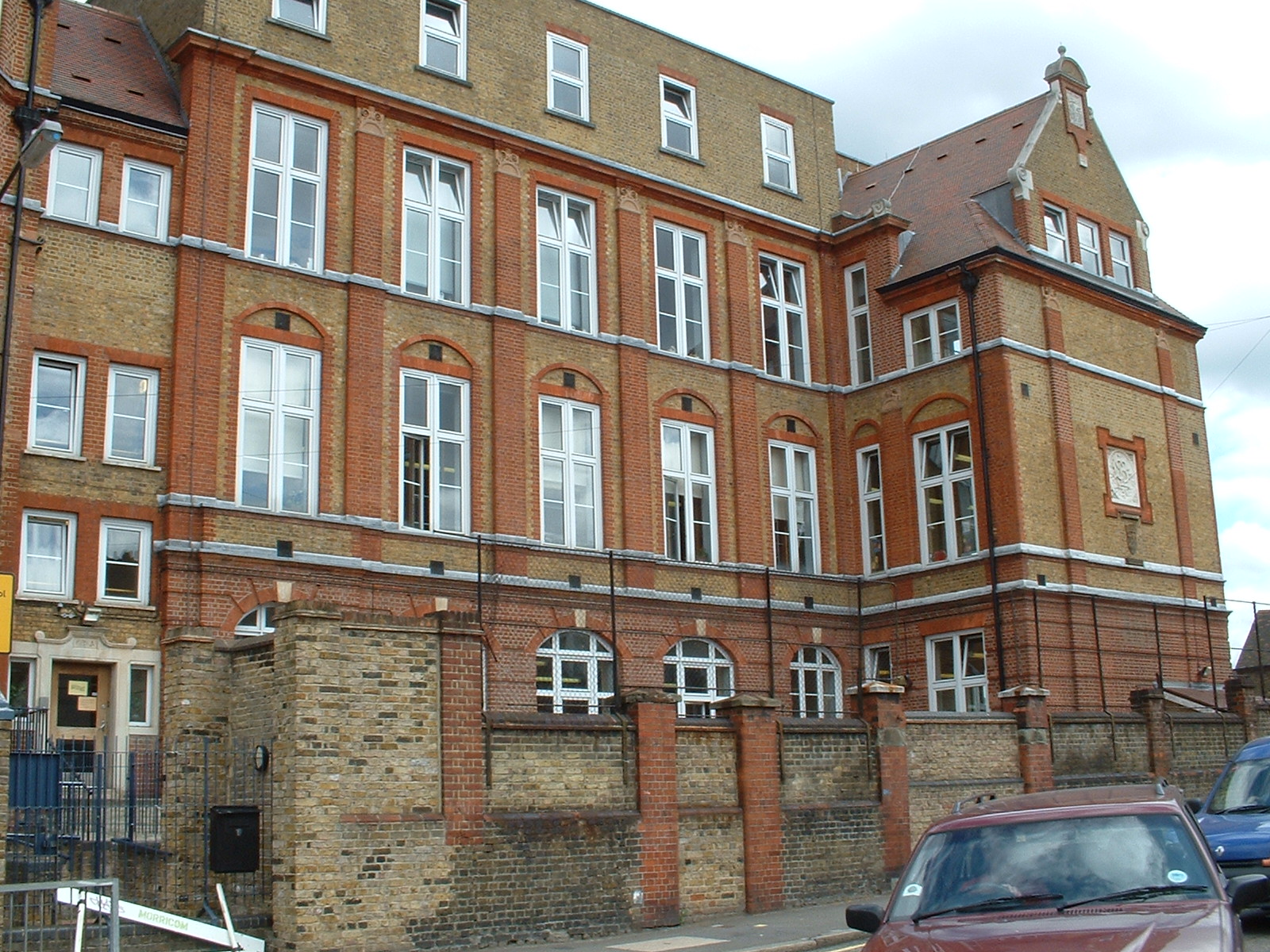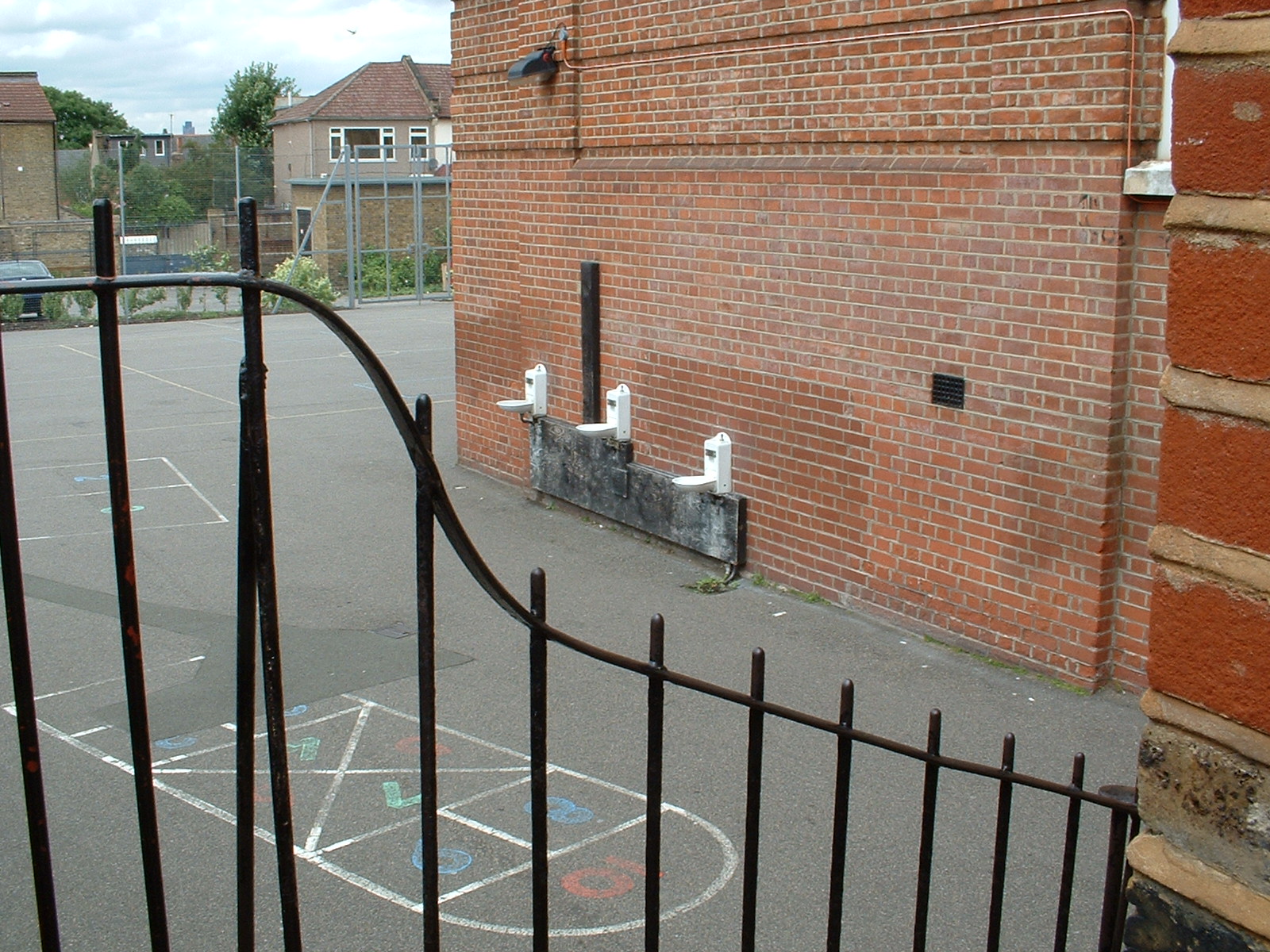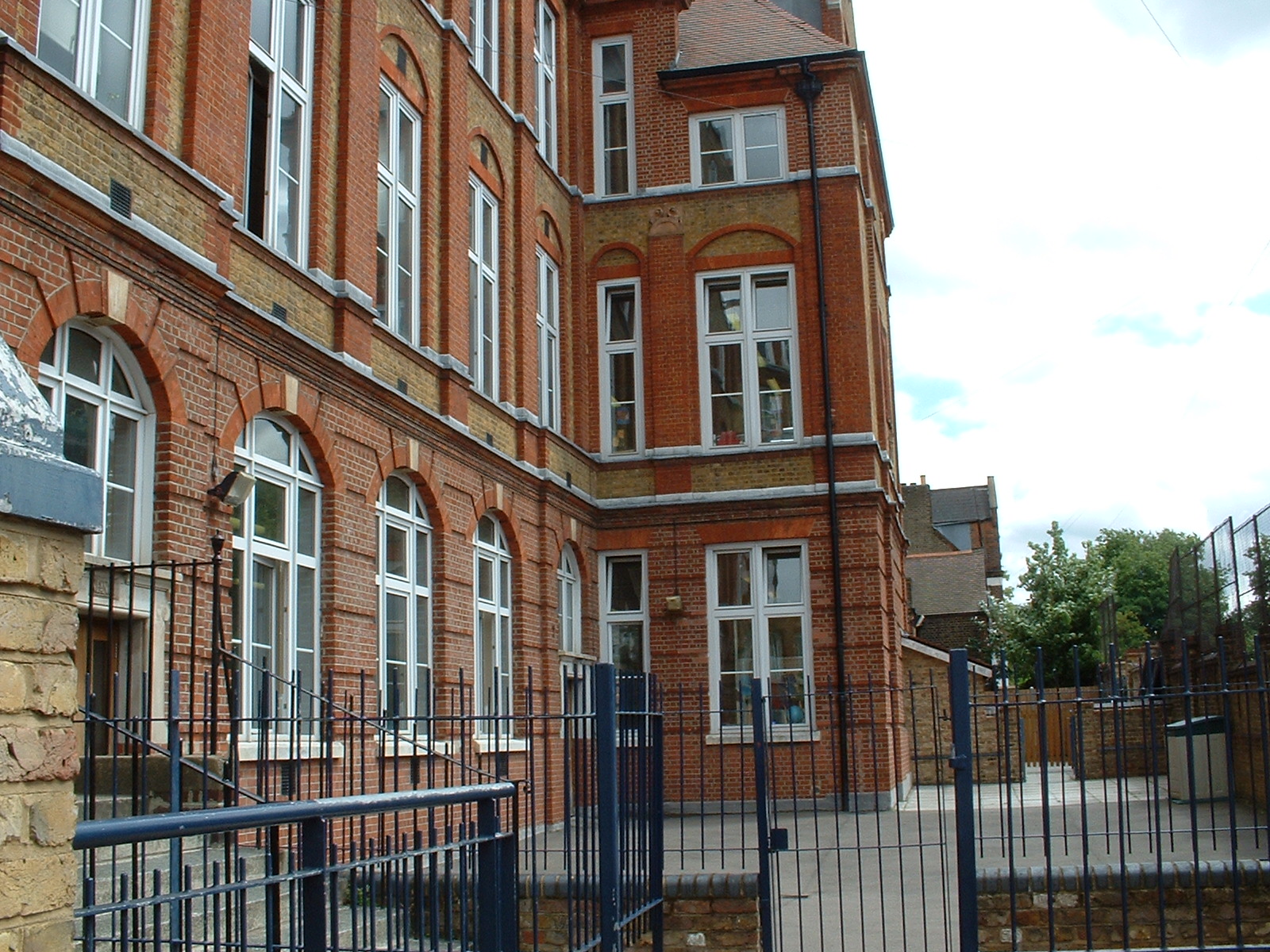 All the exterior photos of both schools were taken approx in 1998,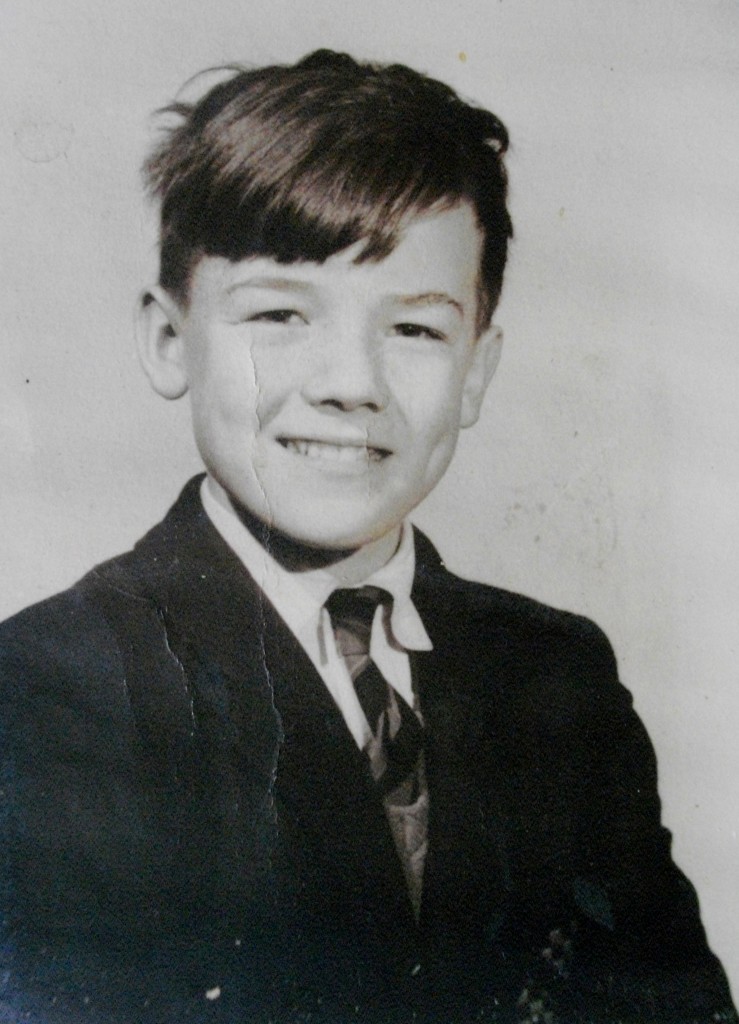 John Chinery in Thomas Calton Uniform, approx 1964,
Thomas Calton School Report Below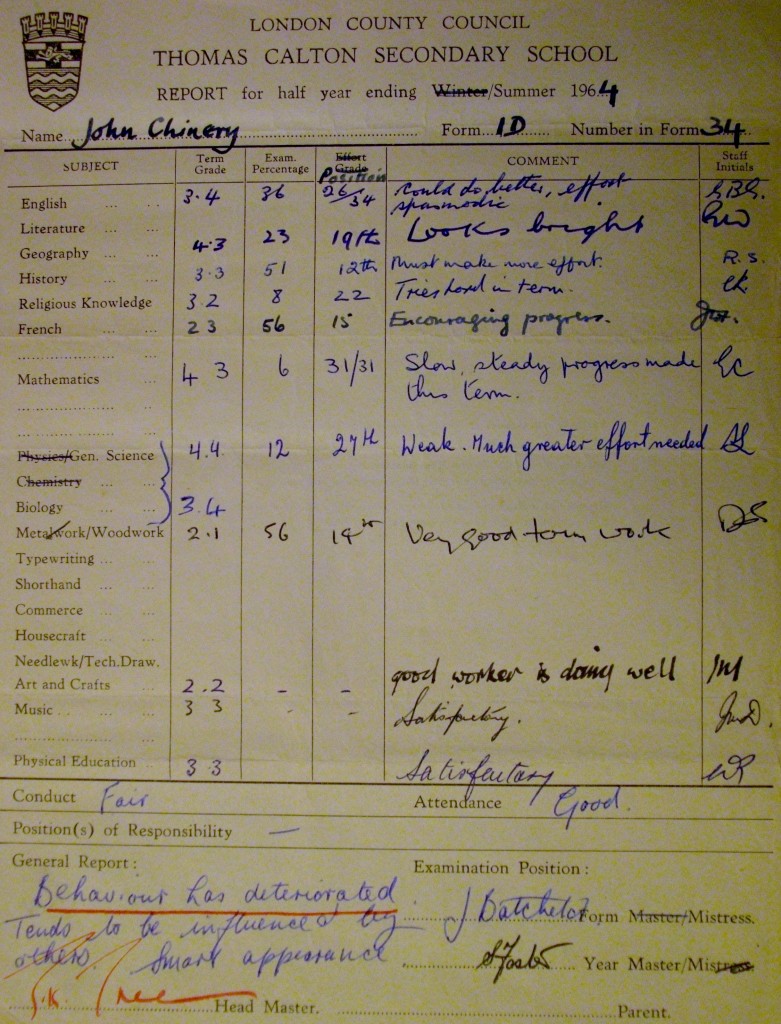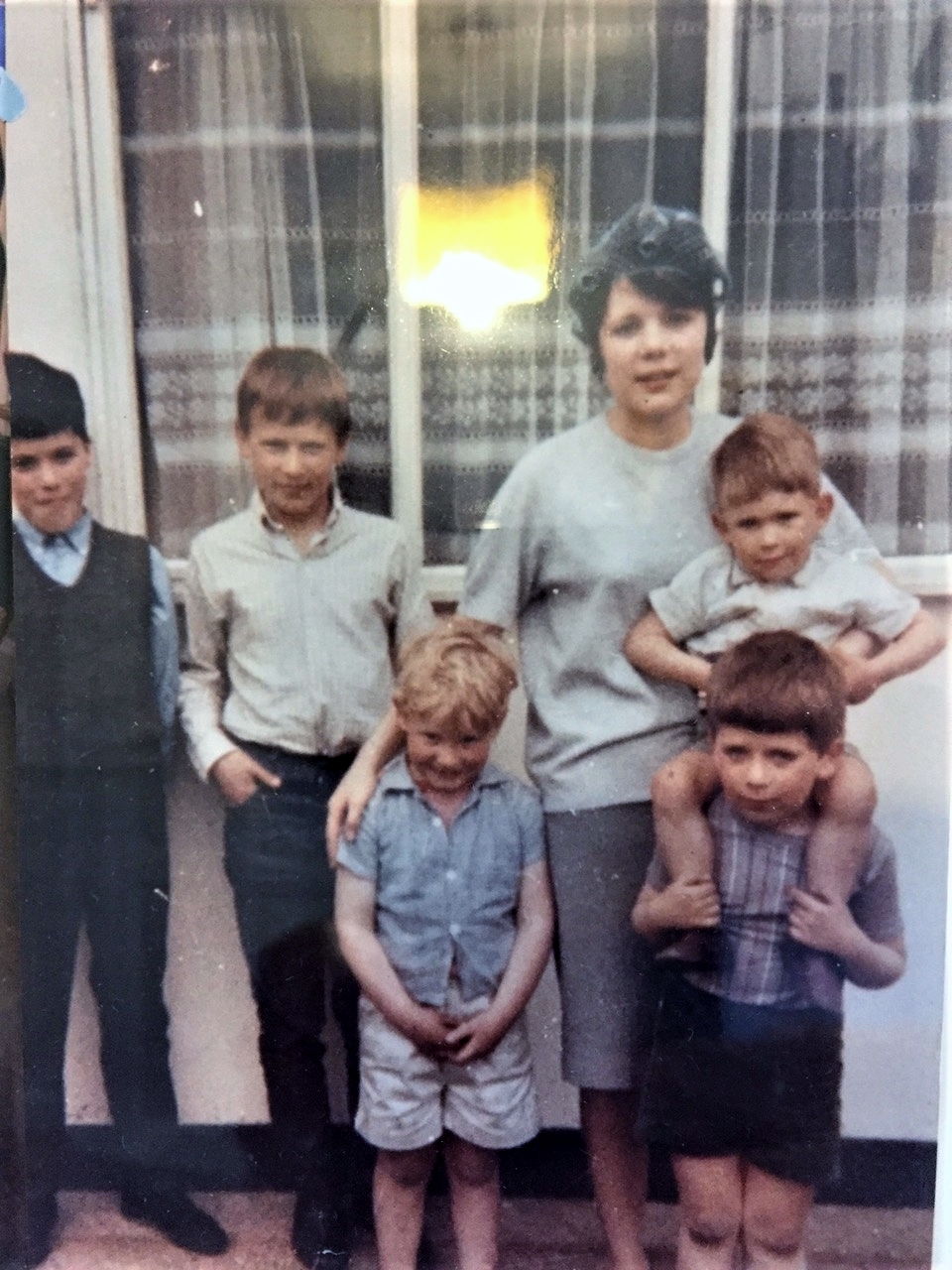 Taken outside our prefab in Upland Road, probably around 1965 ppl
L to R – Jim Davies, Micky Doyle, Terry Greenwood, Elaine Davies holding Timothy Moore on John Davies.
Photo courtesy & copyright of John Davies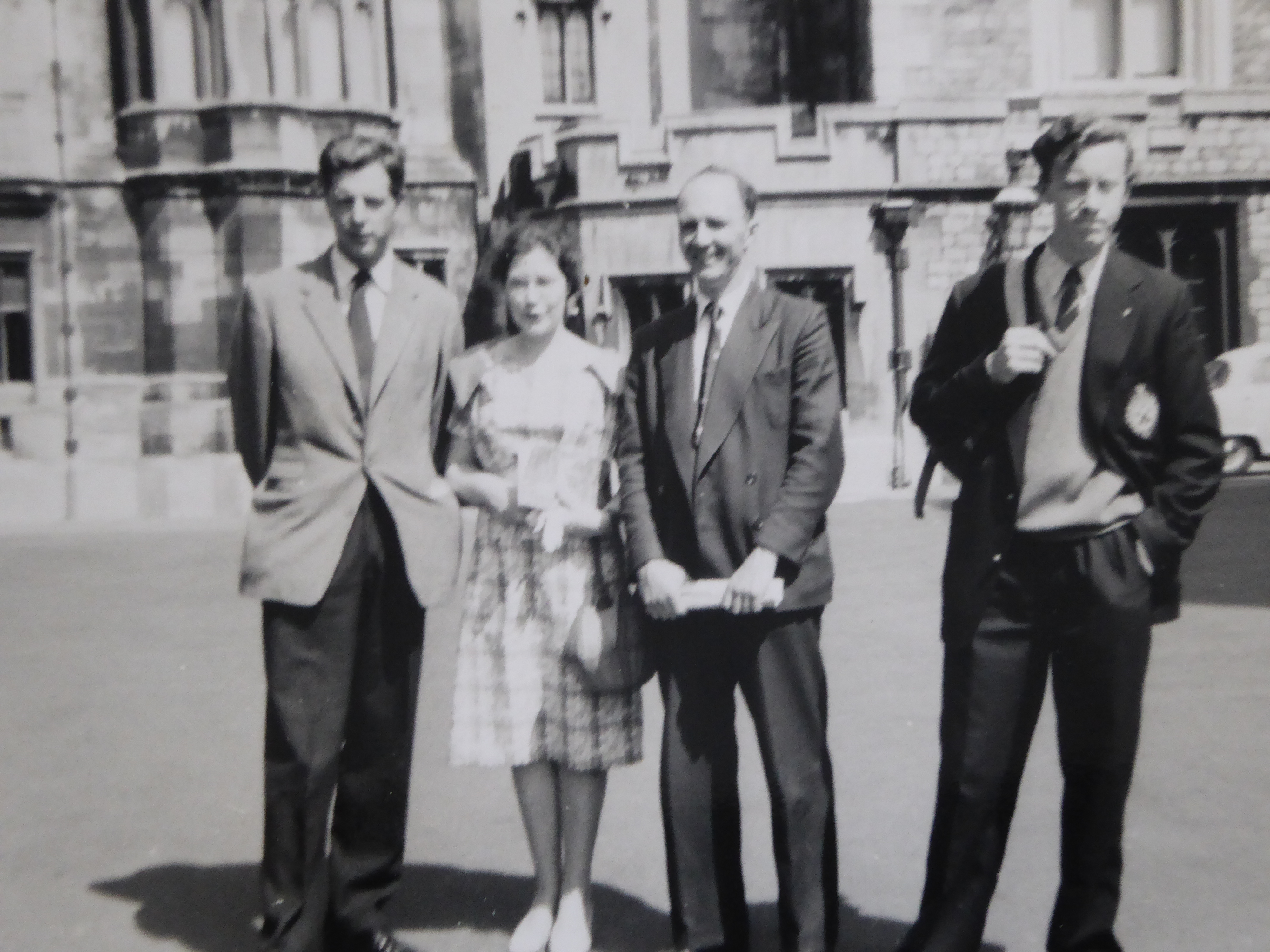 Two photos you may find them interesting!

One is of 4 teachers, taken during my second year at TC (still at
Goodrich Road then). It was taken on a school trip to Windsor Castle.

L-R: Mr. Hilder (French) – Mavis Ireland (French) – Evan Jones (History)
– Douglas Hahn (Geography)

The other is the girls of Form 2S. It was taken on 2nd March 1959 by Bill Keenan (PE) in the playground at Goodrich Road.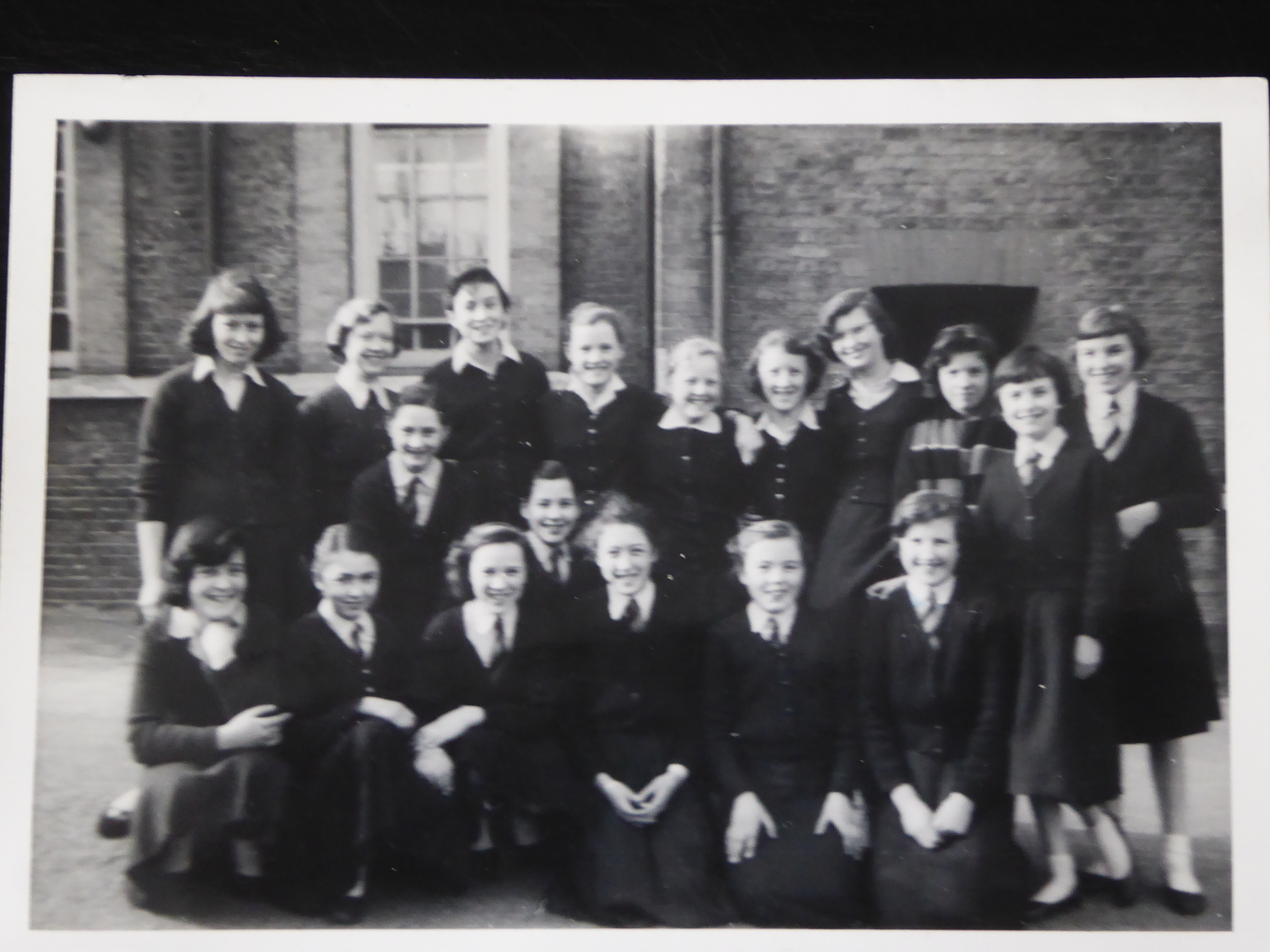 Back row L-R: Carole Pamphlette – Anne Harding – Carol Kite – Linda
Kippen – Sandra Gapp – Christine Joslin – Christine Oates – Maureen Mulhall
Front row L-R: Brenda Arden – Jennifer Robson – Susan Keenan (half
standing) – Joyce Gregory – Doris Verrico (half standing) – Carol Lee –
June Edwards – Linda Gregory (no relative)- Valerie Grossman (standing)
Photos courtesey of Joyce Hopewell
Copyright – ©

Important Notice – Please note all material on this website, photos, information & design is protected by owner copyright. It is an offence to use any of the material from this website without the owners permission.©