Follets Music Shop, 5 Lordship Lane, East Dulwich, S.E 22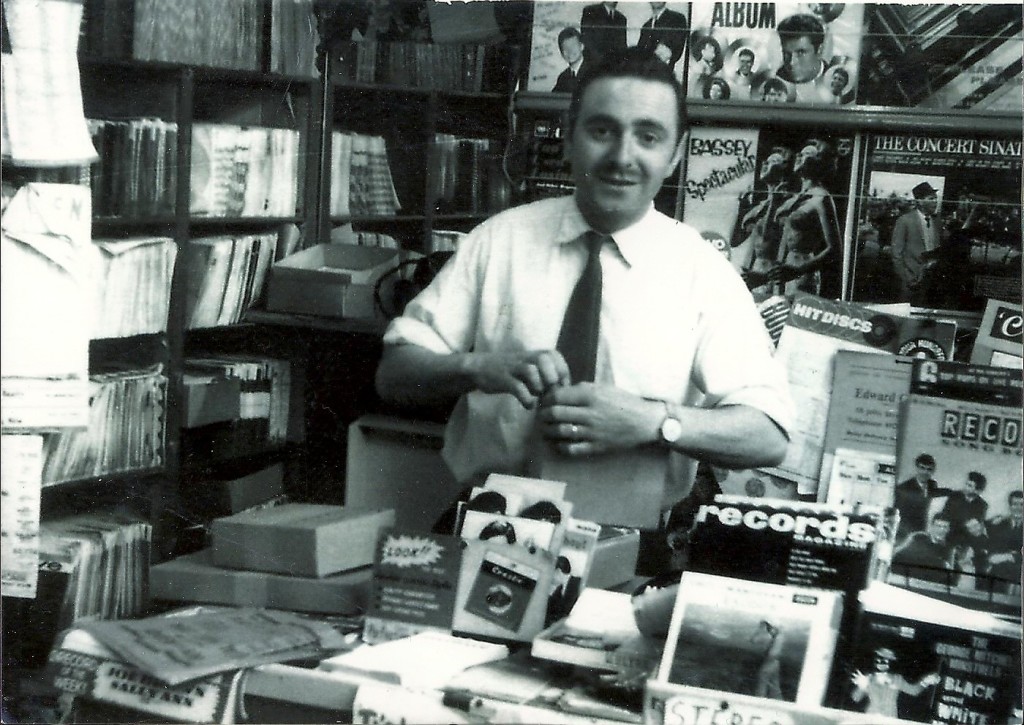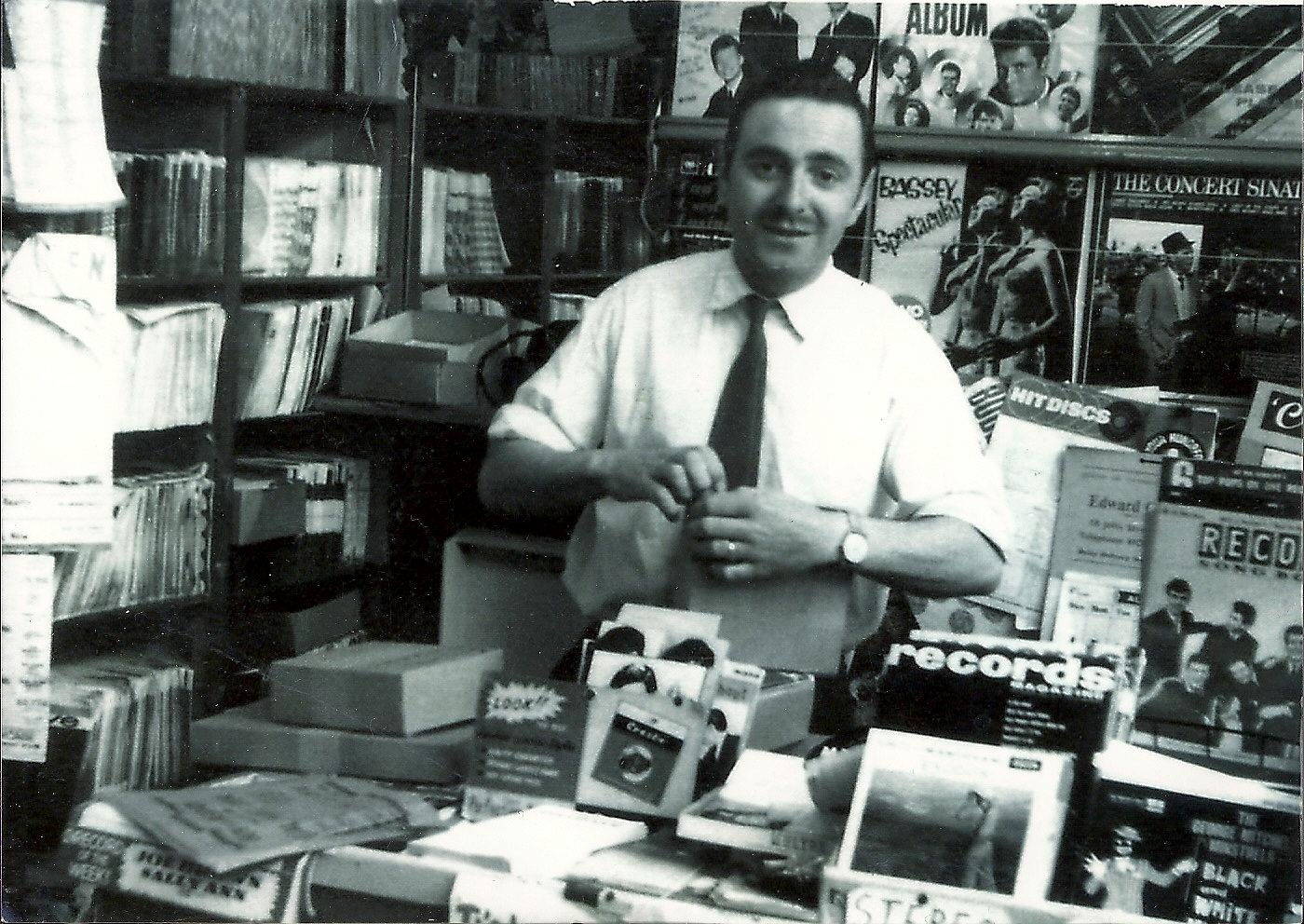 Folletts Music Shop in the early 1960s. Mr Bawcutt (the owner)
Above photo, courtesy & copyright of Denise Vennard
Thank you for your help Denise.
Crystal Palace Tavern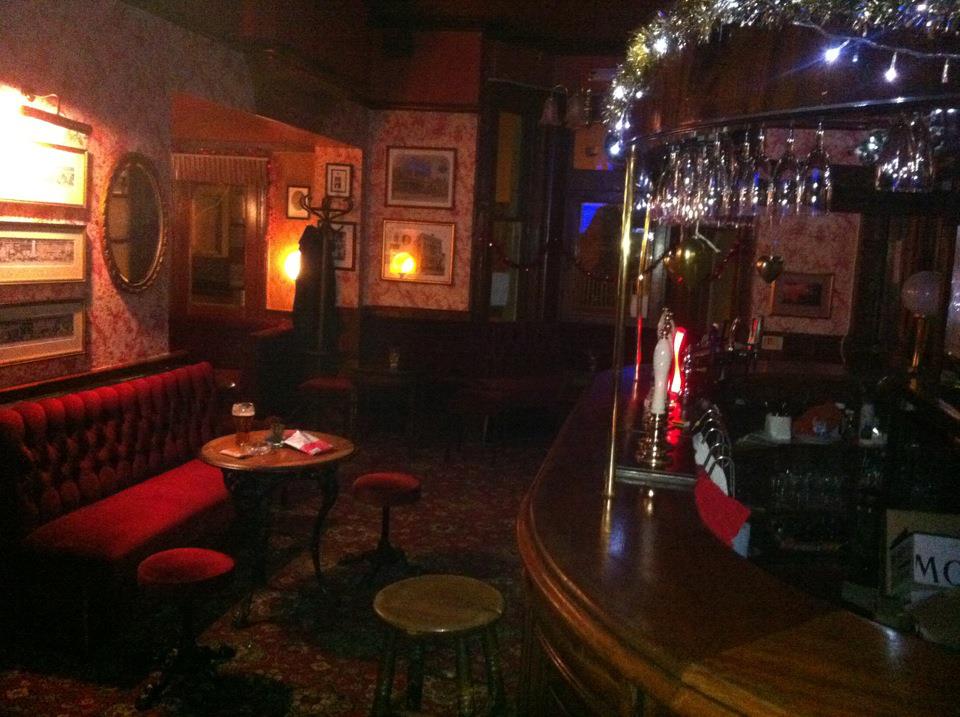 The Old Snug Bar
I understand it the pub's exterior has remained fairly unchanged from how you would remember it, apart from the addition of a patio style raised seating area with picnic benches that stretches around the outside of the pub on Crystal Palace Road and Underhill Road. When the pub changed to be called the CPT this was added and was then redone and neatened up a little when it became its current incarnation.
Some of the older regulars have told me there was at some point a small shop selling crisps, cigarettes etc… where the current main door on Underhill Road is. That's now gone of course and what I've been led to believe used to be some of the many entrances to the pub are now shut off and just windows. There are still three entrances in use, one that leads into the "snug" area where the toilets are, the main one I mentioned with the two doors leading to either the "saloon" or "lounge" and one in the middle of the side of the pub that faces Crystal Palace Road.
The bar itself was moved to its current position along the back wall for the opening of The Great Exhibition in March 2012. The ale pump are all original and play up as much as you would expect for ones that old! Behind the bar we still have the mirrored patterned glass and the curved piece which I imagine used to be around one of the pillars in the centre of the pub. A lot of the furniture is still the same, in fact we had one man who said what he remembers as the dominoes table (long and thin with cast iron feet) is still there and has a part time use as a DJ table!
The pub now has a kitchen and what we call the "Gin Yard" which are in the back of the pub where there didn't used to be anything as far as I know apart from possibly the back entrance to the quarters on the upper levels. This was all cleared out, a door allowing access from the pub put in and wooden porch decking and a covered area put in for smokers.
As far as I'm aware quite a lot of the old features remain so you may recognise some bits and pieces from the pictures although I imagine it looks quite different from when you remember it.                                                                                 Freddie Harris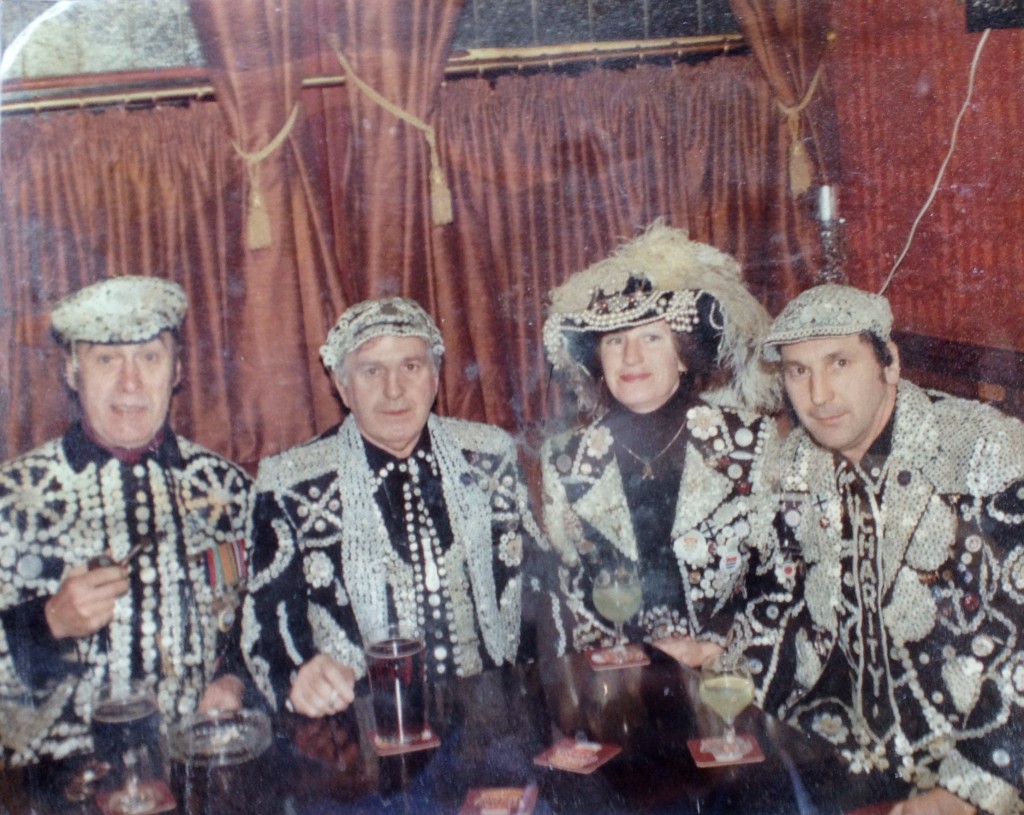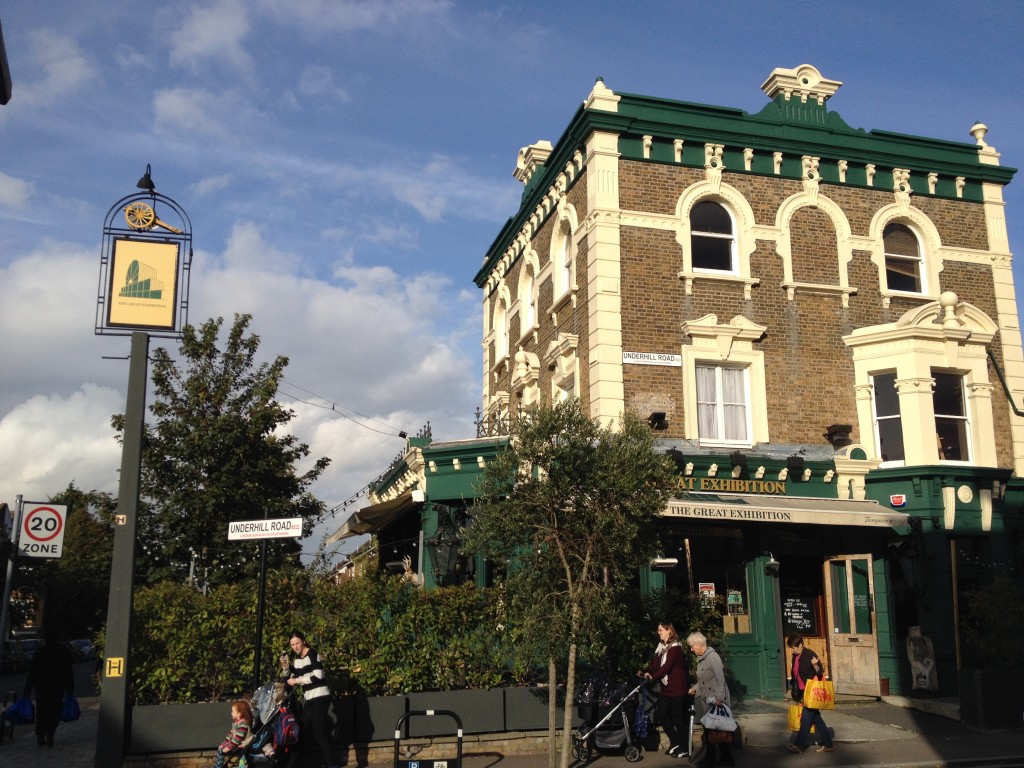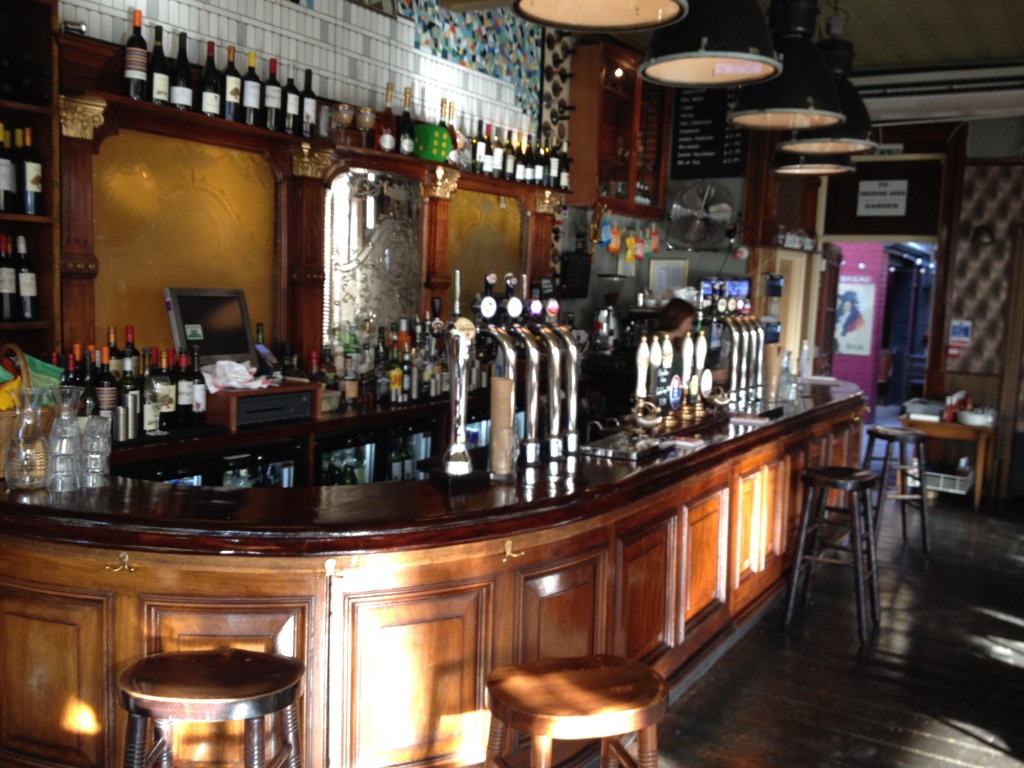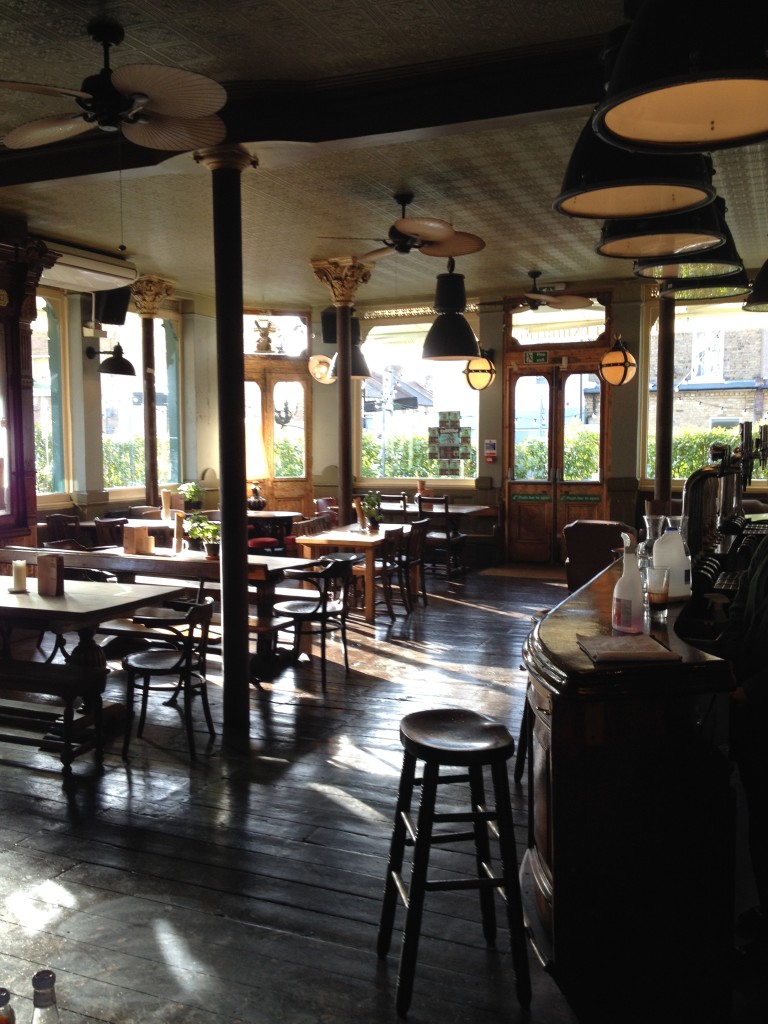 These photos are courtesy of Freddie Harris, The Great Exhibition (Crystal Palace Tavern)
 2014
The Crystal Palace Tavern used to run a Christmas Loan Club, you would pay so much in each week, ten bob (50p) or £1.00, as much as you could afford and then get it back with interest at Christmas, that was very handy, that would have been around 1969/1970, there was also a Piano where regulars could have a good old singalong, the couple who run the Pub at that time were Michael & Gloria, don't know their surname, but they were very nice, the Pub also had its own Off License, that was situated facing Underhill Road, kids were allowed to go in there and buy Smiths Crisps, R Whites Lemonade, Peanuts etc, good old times.                                                                                                John Chinery
Hardware Shop corner of Pellatt Road & Landcroft Road – 1930s – 1940s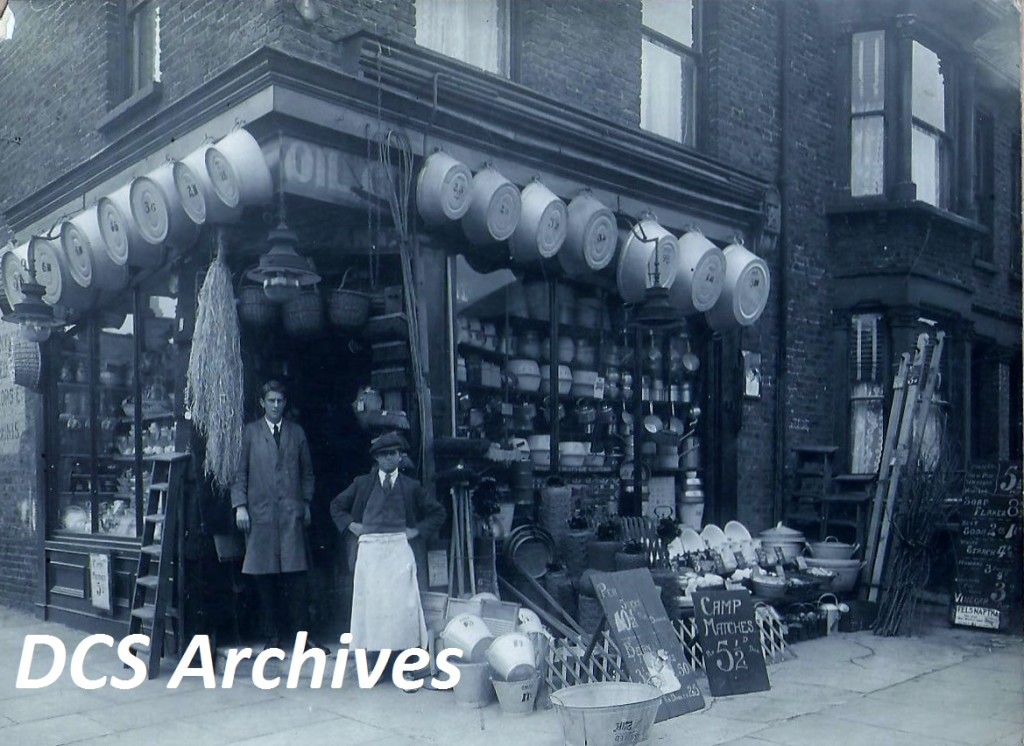 Hardware shop in Pellatt / Landcroft road, possibly 1930s/40s, The fella with the cap and skirt on was Tommy North, Carols dad's brother, At the time of this photo he was 13 years old but sadly died 6 to 7 years later from rheumatic fever. The only other thing I can say about the shop is that it had a 500 gallon tank of paraffin behind the front door for customers to fill there gallon cans for heating at home, no health and safety then.          
                                                  Information supplied by Dave & Carol Seymour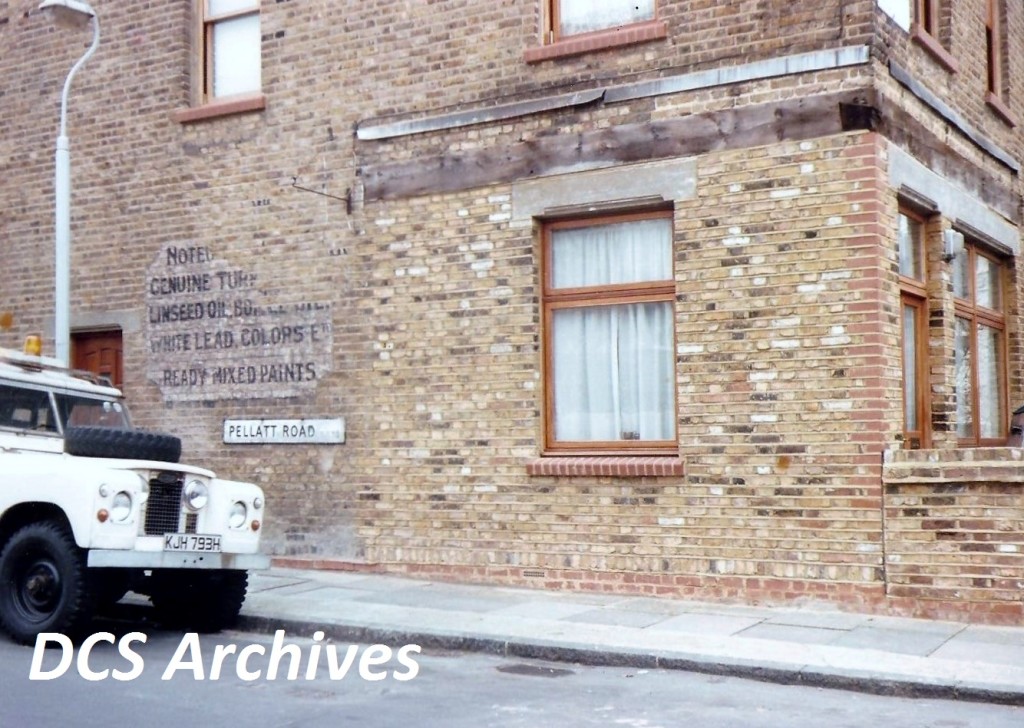 The same building today (2014)
Information very kindly supplied by Dave & Carol (North) Seymour
The Milkman in the above photo is about 18 years old. He was born in 1889 and was Carol Seymour's Grandad. His name was Leonard Henry North. The photo was probably taken outside 187 Landells Road in the early 1900s, where he lived with his parents. The house was in the North family from 1891 – 1987. The Dairy he worked for was Evans Dairy situated on the junction of Glengary Road and East Dulwich Grove, opposite Dulwich Hospital.
Photos Courtesy & Copyright of Dave & Carol Seymour               DCS Archives
(below is an extract from the 1964 Kellys Directory)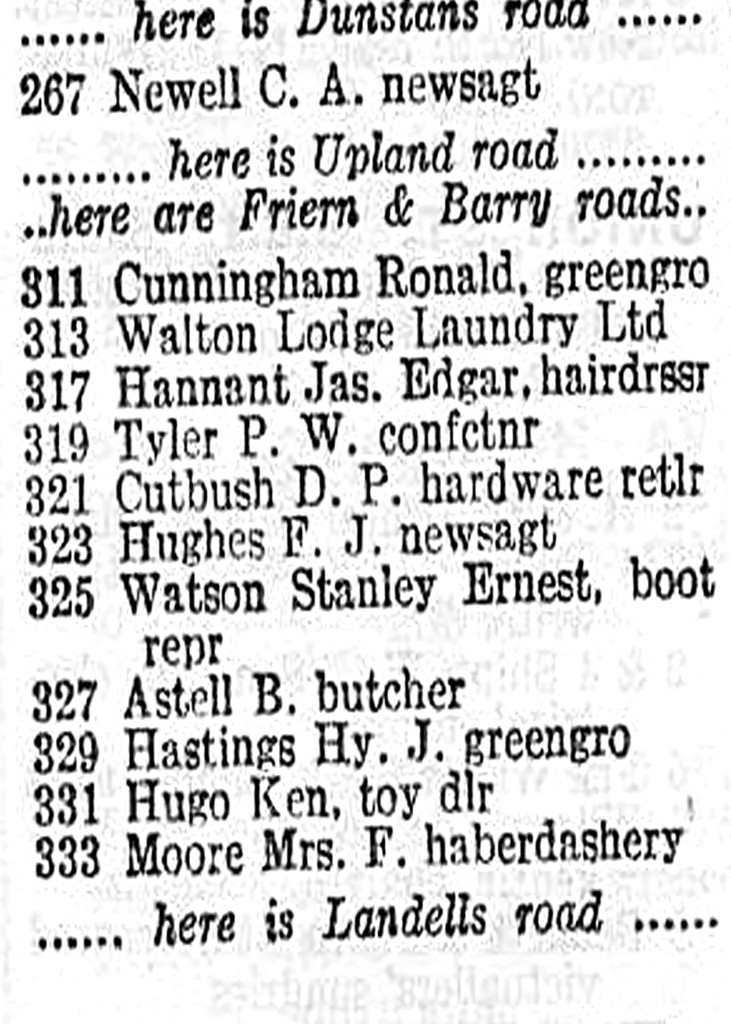 List of shops in Underhill Road 1964 (Kellys Directory)
The Origins of Place Bakeries in Dulwich by Mary Smith
My Nan was born in Shap in Cumbria around the turn of the century with the name of Bland.  The family all called her Sissy so I suppose her name was Cecilia or something close to that.  She married into the Place family when she married my Grandad and although he was a Yorkshireman from Barnoldswick, near Colne, they all moved to Blackpool where they had a guest house.  I remember my Dad telling me that as he grew up that if they could take in another guest then he would have to give up his bedroom for them as it meant extra income for the family.
Nan was the entrepreneur but times were hard.  Dad's sister Annie was close in age to him and they were all brought up with a strong work ethic.  Grandad's sister had married a Frenchman, Charles, a baker who also lived in Blackpool and they had a son Jeff so Jeff, Dad and Annie grew up as friends.  They somehow got hold of a film projector and would show films to all the local children in a shed and charge them an entrance fee.  Ten years after my Dad, John (but known as Jock) and Annie were born along came my uncle, Lionel who is still fit and well today.  As children Dad and Annie looked after him while Nan was working hard and obviously led him into all sorts of mischief.
Well before the second WW started Uncle Charles had moved to East Dulwich in London to start up a bakery business.  He encouraged the rest of the family to move down too.  They rented a shop in Lordship Lane which had a bakery oven in the cellar.  They bought bread from Charles and later rented another shop further up the parade where they also lived opposite 'The Plough' pub.   In the 2nd WW this shop was bombed so they all moved out to live in a large house opposite where several other families had been housed.  After the end of the war they bought the bombed site where the shop was and had it rebuilt with a large bakehouse at the rear.  There was also a space for afternoon teas to be served.  My Nan and Grandad lived in a large maisonette above this shop which became the head office of Place Bakeries.
My Nan ran a small grocery shop in the original rented shop and eventually bought the freehold.  She was well thought of by all her customers.  She had a heart of gold and would always see that those families who were hard up got little extras in their order, which they didn't have to pay for.  She was also a very unwell lady who had had a lung removed – a huge operation in those days and had to survive with dreadful scarring which never healed properly.  She needed oxygen support on bad days all the time I was aware of her.  She didn't make old bones, always looked very old to me and died when she was in her early 60s.  I loved her lots obviously.  My twin brother and I were the apples of her eye and she always told us that she would take the top brick off the chimney if we wanted it.  I didn't see the attraction of a brick luckily.
Everything was going well so she negotiated a loan from the bank – apparently she was good at twisting the bank manager's arm – to buy the bakery at the bottom end of Lordship Lane with a shop at the front from Uncle Charles.  They hired bakers to work for them and the bread was lovely – 'the crust with the crackle' was the logo and it was too!  Cakes, buns etc were made at the bakehouse opposite 'The Plough' pub.
Dad had qualified as an engineer and Lionel and him had started a factory making pushchairs before and after the war.  Dad's eyesight was not good enough for the war effort and Lionel was too young so they both managed to miss active service.  Later Lionel became the manager of all the shops they had acquired, delivering all the goods to them and sorting out the problems and Dad would deliver bread with Lionel at 5am and then go to his day job as an engineer for the government.  He calculated all the wages, tax etc in the evenings.  I always remember him working.  It's ironic that neither him nor Lionel could bake bread; in fact my Dad struggled to boil an egg!
The business was sold to the employees around the 70s as a going concern but whether they weren't prepared to work as hard as Lionel and Dad or whether the opening of supermarkets which sold everything was their downfall, I don't know.  I suspect the supermarkets with their cheap, tasteless, doughy bread were to blame but people got cheaper food and maybe couldn't afford the crust with the crackle any more.  Place Bakeries is no more but remembered by many.  I still hate supermarket bread and always look for rustic bakers to buy from.  I hope the tide is turning as people realise the difference in taste.
Origin of Place Bakery information courtesy & copyright of Mary Smith
Thank you Mary
Copyright – ©  Important Notice – Please note all material on this website, photos, information & design is protected by owner copyright. It is an offence to use any of the material from this website without the owners permission.©